Posted on March 11, 2011 by DecapitatedDan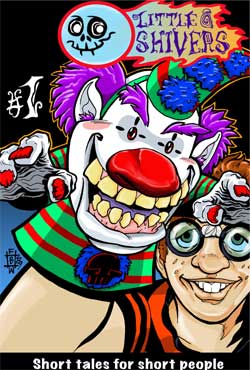 Issue: Little Shivers#1
Writer: Jack Kilborn, Levi Walton, Sofia Giusso, Bradd Parton, Scott Nicholson
Artists: Sergio Castro, Frankie B. Washington, Levi Walton, Bradd Parton
Letters: Sergio Castro, Frankie B. Washington, Levi Walton
Cover Artist: Frankie B. Washington
Editor: Scott Nicholson
Publisher: Haunted Computer Productions
Release Date: 2010
Pages: 32
Price: $3.00
"Little Shivers is a spooky-fun comic for ages 8 to 12, featuring 'short tales for short people.' Contributors include Jack Kilborn, Frankie B. Washington, Sergio Castro, Levi Walton, Bradd Parton, and more, edited by Scott Nicholson of Haunted Computer Books. The comic is 28 pages, with black-and-white interior art."
Artwork: 4.5 out of 5
Fantastic from page 1 to page 32. This is a fun looking issue that I wouldn't mind if it were done for adult readers, but since it is for kids I can say it rocks! Every artist brings a unique look that is inviting and yet scary enough for the genre. I knew I was in for a treat when I saw the pumpkin grow eyes in the first story. I also want to add that black and white was the right way to go here.
Story: 4.0 out of 5
There were 6 short stories in this issue and every single one of them I enjoyed. Sometimes you can really get things played down to the target audience but I can happily say that I enjoyed this and I think the age range should go from 6 – 200. That is of course if you live to be 200. In all seriousness each story is a fun take on the horror genre and I welcome more from the crew.
Dying Breath: 4.0 out of 5
Fun, fun and fun can all be had in this issue. I would buy it for my kids and their kids and then my great grand kids, except I don't have children yet, so I get to keep it all to myself! The artwork is playful and just sets a great visual tone, that is layered with sweet stories of horror goodness. I easily recommend this book for someone looking to have a good time with a comic.
Review by Dan Royer
Tags | drivethrucomics, horror comics