Posted on May 20, 2019 by Flames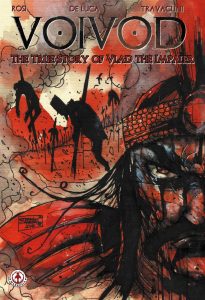 Markosia Books, one of the UK's leading publishers of graphic novels, has teamed up with DriveThruComics to offer their graphic novels in print. Horror fans will be thrilled to know they can order print copies of their favorite graphic novels including Voivod: The True Story of Vlad the Impaler and the WWII-era yarn Abominable Glory.
According to Markosia's announcement, titles will be released in print over the next several weeks. To take a peek at their full catalog filled with fantasy, science fiction, horror, and adventure graphic novels, visit Markosia Books on DriveThruComics.

Tags | graphic novels, markosia books