Posted on April 27, 2020 by Flames
The Devil's City: Horror Fiction & 5e Gaming Conjoined is An illustrated, collectible novella & companion 5e RPG setting exploring the growing darkness in Chicago of late 1800s. Currently funding on Kickstarter.com with only a few days left. This project is led by by Sara Tantlinger, Matt Corley and M.T. Black. This morning Matt Corley stopped by to tell us a bit more about what inspired the project.
A few years ago, I talked by D&D group into playing Forget Me Not, a Call of Cthulhu one-shot written by Brian Sammons and published by Stygian Fox in Things We Leave Behind. Without giving anything away it's a scenario in which not knowing how to play CoC wasn't a drawback. It actually made the game more intense and played perfectly into the investigator's situation. It was one of the most fun games I've ever run and my friends enjoyed as much as I did. Everyone loved the setting, the genre, and the gameplay, but we never played again because they didn't feel they had time to learn a new system. And that was when I began to work on set of madness and sanity rules specifically for 5e and the concept that would eventually become Whispers in the Dark.
Those rules were the beginning of everything.
They introduced a mechanic that effects the PCs narratively and mechanically, and most importantly it's an effect that is persistent. One that cannot be erased with a good night's rest. And what's the best way to introduce madness rules? With a sanitarium of course, and that led to Lamp's Light Sanitarium which is the precursor to Whispers in the Dark Quickstart, an introductory rulebook I wrote with MT Black.
The success of Lamp's Light and Whispers, coupled with the incredible response Critters had to CR's own foray into CoC with Shadow of the Crystal Palace told me I was on the right track with a game that was more investigation and horror than heroic high fantasy.
Whispers in the Dark is set in a world heavily inspired by historical fiction such as The Hunger, The Alienist, and The Angel of Darkness. And of course, folklore and mythos inspired books such as Whisperer in Darkness, The Ballad of Black Tom, A Study in Emerald, That Which Should Not Be, and so many others.
The players take the roles of ordinary folks who by choice or chance have become intwined in extraordinary circumstances. Not every foul plot has a supernatural twist, there are plenty of evil folks out there, but the investigators inevitably come into contact with beings and powers whose very presence is antithetical to natural order.
The Devil's City and Horror in the Windy City is setting book that reveals Chicago of the late 1800s and includes an epic campaign focused on the machinations of the America's first serial killer, HH Holmes.
There are expanded rules, scenario hooks, and individual scenarios too. We're funded and the campaign ends at Midnight April 29th . If you're looking for a different way to play DnD check it out and support as you're able.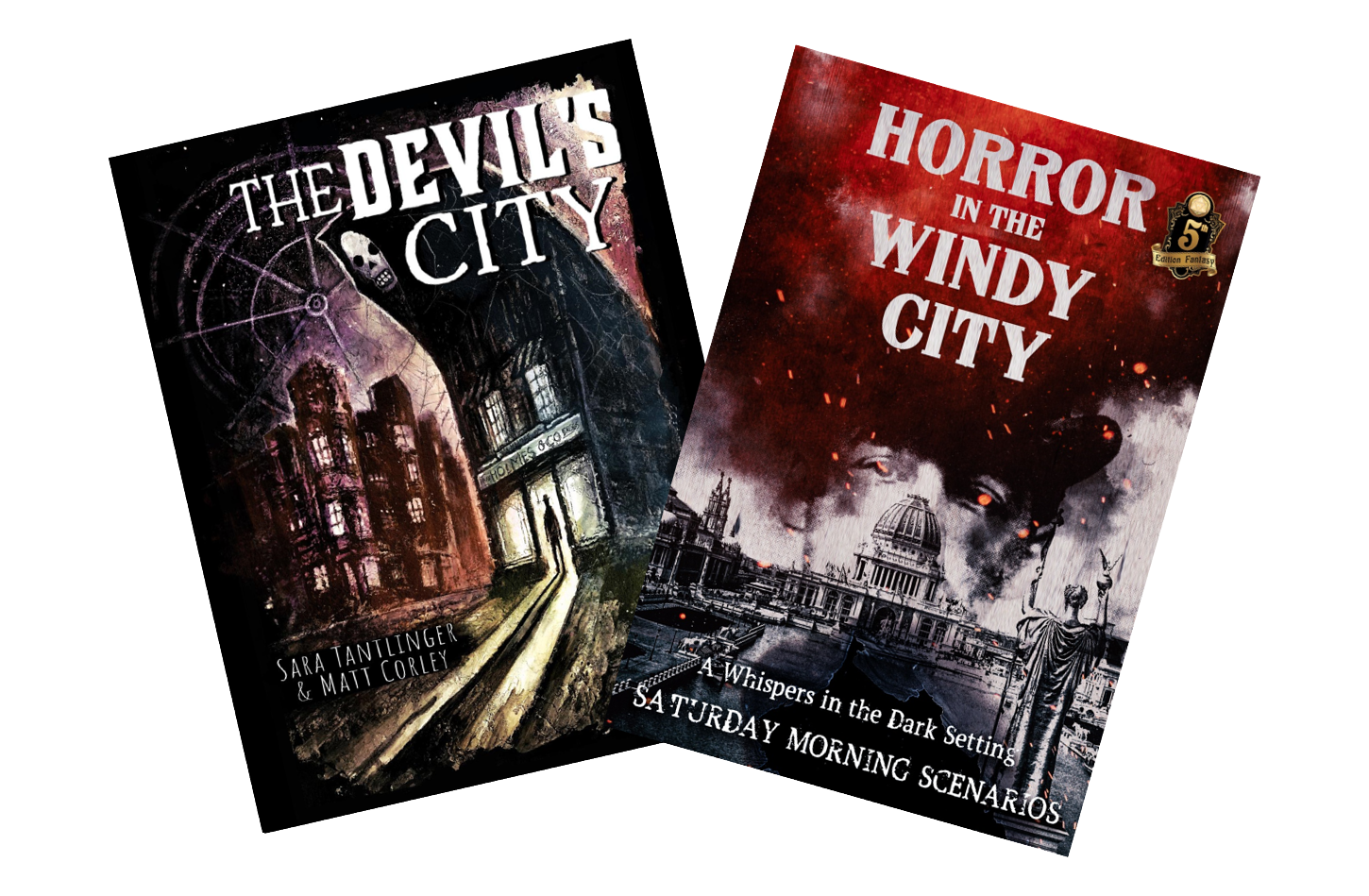 A little more about Matt. In addition to the titles above Matt was lead developer on Tales of the Old Margreve and a contributor for Deep Magic for Kobold Press. He has also co-authored two mythos infused adventure paths (Ghoul Island Act 1: Voyage to Farzeen and Act 2: Ghoulocracy) with Sandy Petersen, and has three other books with Sandy in various stages of production. He and his daughter created Harper's Tale a forest-based adventure path for 5e as a fundraiser for Friends of Kids with Cancer which is set to release in May 2020.
Tags | cthulhu, dungeons & dragons, kickstarter