Posted on August 26, 2021 by Flames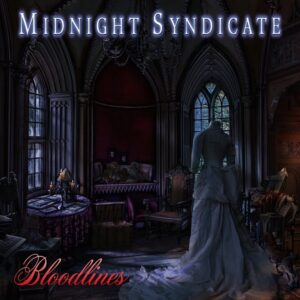 Midnight Syndicate has just released a mini-album entitled Bloodlines. Their 14th studio album, Bloodlines is a prequel to the duo's best-selling, haunted mansion-themed, The 13th Hour. The new release draws listeners deeper into the world of the Haverghast family, a sinister clan whose dark secrets were first introduced on the 2001 asylum-themed album, Gates of Delirium.
"The events that occur in Bloodlines happen before The 13th Hour, although how long before is left up to the listener," said Edward Douglas. Gavin Goszka added, "The selections on this album expand the story of the Haverghast family. We wanted this album to flow as seamlessly as possible into The 13th Hour, while still maintaining its own distinct stylistic identity."
Bloodlines comes on the heels of the band's first live album, Live Shadows, which was released in June of this year. Beginning in September, Midnight Syndicate will bring their critically-acclaimed concert experience, Midnight Syndicate Live! Conspiracy of Shadows, back to the world famous amusement park, Cedar Point. The horror-themed multimedia concerts blending live music, theatre, and film will run from September 17 through October 31 at the park's HalloWeekends event. The band has also hinted another major announcement will be coming soon.
Buy or listen to Bloodlines: midnightsyndicate.fanlink.to/bloodlines
Watch the album trailer: midnightsyndicate.fanlink.to/f4xM
Midnight Syndicate official website: www.MidnightSyndicate.com


Tags | halloween, horror music, midnight-syndicate