Posted on June 14, 2021 by Flames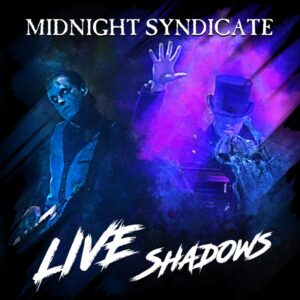 Nearly three decades into their career, on June 11th dark music pioneers Midnight Syndicate released their first live album, Live Shadows. Recorded between 2014 and 2019 at their multimedia Midnight Syndicate Live! shows at Cedar Point HalloWeekends, the album features new material and newly-arranged live versions of music spanning their career. A series of music videos highlighting each of their four Midnight Syndicate Live! productions are being released along with the album. Live Shadows will be available digitally and on CD and limited-edition purple vinyl.
"This album distills four years' worth of immersive live performances into a collection of tracks that we feel truly represents the essence of these shows," said Gavin Goszka.
"To this point, all of our shows have had their runs at the Cedar Point amusement park in Ohio," added Edward Douglas, "so releasing this album and the accompanying music videos gives us a chance to share a part of the Midnight Syndicate Live! experience with fans wherever they may live."
Live Shadows is now available for purchase or for listening. Visit the Midnight Syndicate official website for more information, including news about their next album and upcoming Midnight Syndicate Live! production.
Tags | gothic horror, horror music, midnight-syndicate, musicians