Posted on August 26, 2010 by Monica Valentinelli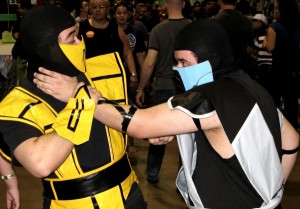 Like comic conventions? This year for Wizard World, otherwise known as Chicago Comic-Con, I spent the weekend in Artist's Alley with Leanne Buckley. First off, I should point out that I couldn't help but compare this convention to C2E2, which was held at the McCormick Place just this past April in Chicago. The difference between the two is pretty distinct, because the venues had a different emphasis from one another. As many fans pointed out to me, there was a noticeable lack of comic book publishers at Wizard World. Most, if not all, of the publishers that were missing had booths at C2E2 this past Spring, so I wasn't surprised that there was a lack of publishers at this show. I was happy to see that Avatar Press was at Wizard World, and I had a great chat with them. Admittedly, I was a little curious why some of the local Chicago comic book publishers didn't have a booth at the show.
But what about the artists? This year, fans at Wizard World literally flocked to Artist's Alley. The guests in Artist's Alley were (in a word) phenomenal and with the increase in traffic, many artists fared really well. Leanne's booth was pretty close to artist extraordinaire Arthur Suydam, whose work you'd recognize from Marvel Zombies. Even though she hadn't had a booth there for a few years, people were drawn to her work. Other artists ranged from Echo Chernik to Jeff Balke, but there were also a few surprises like the appearance of author Peter S. Beagle and more than a few webcomic artists and illustrators.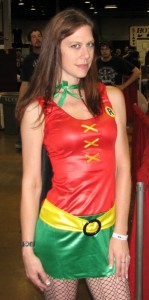 From my perspective, the fans were happy to support their favorite comic book, video game and anime characters in any way that they could. People of all shapes, sizes and colors came to the show, dressed up in costumes to wait in line for celebs and for artists. Attendance numbers for the show were up thirty percent year-over-year as well. Other than a few complaints about a few of the guests, fans were thrilled to hand their sketchbooks over to artists and add to their collection.
To sum up, I had a great time helping out Leanne in Artist's Alley over the weekend and was encouraged to see so many fans get in touch with the artists that mattered to them. I hope that next year more local publishers and artists will consider making an appearance at the show. After all, the people that matter the most are the fans. Without them, comics wouldn't be possible.
Tags | comics, Conventions / Events