Posted on March 24, 2012 by Flames
Moonstone Books, the publishers of the Vampire: the Masquerade and Werewolf: the Apocalypse comic series, are having a fun sale on two of their horror fiction anthologies…
Which monster will win?
Vampire: Dracula and the Undead Legions
Returning from the shuddering shadows, Moonstone once again proudly presents a collection of all-new, blood-draining, fang-filled short stories written by some of today's creepiest, most disturbed fiction entertainers in the business!
So lock up the doors, take good care not to invite any strangers inside… and curl up with this compilation of ten brand-new tales of bloodsucking terror, featuring everybody's favorite fanged fiends, the vampires… including terrifying tales of the King of the Vampires himself, Dracula!
Some classic, some contemporary… some traditional, some unique… all guaranteed to thrill you and chill you at the same time!
Get Vampire: Dracula and the Undead Legions at DriveThruFiction.com!
Werewolves: Dead Moon Rising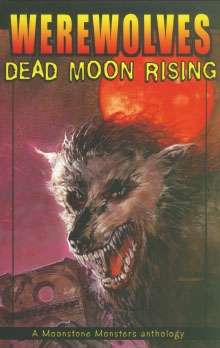 A monster/horror prose fiction anthology featuring our favorite ferocious and furry fiends, werewolves! The blood will run red in the dead of night as both horror-fiction and comic book writers alike unite to bring you an unlucky 13 chilling tales of howling horror.
With stories by Elaine Bergstrom, Tom DeFalco, Dave Dorman, Clay Griffith, William R. Halliar, C.J. Henderson, David Michelinie, Christopher Mills, Mike Reynolds, Beau Smith, Paul D, Storrie, Dave Ulanski, and Fred Van Lente!
Interior illustrations by Ken Wolak- and a fang-tastic cover by fan-favorite Dave Dorman
Get Werewolves: Dead Moon Rising at DriveThruFiction.com!
The PDF eBook editions of both of these titles are on sale for only $1.99 for a limited time!
Choose your side!
Check out all of Moonstone Books' horror titles that are available now at DriveThruFiction.com!
Tags | vampires, werewolves