Posted on January 7, 2011 by Flames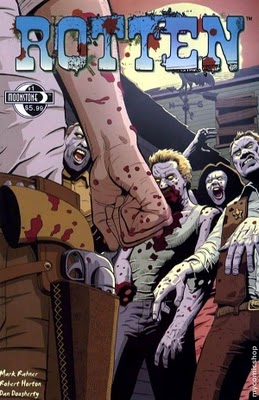 Moonstone Entertainment, Inc. announces that the wildly eclectic, genre busting comic 'ROTTEN' from writers Mark Rahner and Robert Horton and Artist Dan Dough?erty continues to receive accolades and notice, this time from writers at the Comic Book Bin. Writers for the comic book centered site instituted their own awards this year. Calling them 'The Binnies', writers established several comic book oriented categories and then chose the winners for each category. ROTTEN was named as one of the six winners of Best New or Mini Series for 2010. Comic Book Bin writer Pat Oliver selected the Moonstone title for this recognition and wrote-
I quite liked Rotten (Moonstone) this year. Created by Mark Rahner and Robert Horton, with artwork by Dan Dougherty, it evoked memories of the old TV series Wild Wild West, and was a nice new twist on both the western and zombie genres. Its two main protagonists are likeable, ethical men and experts in their own fields. One may be more cerebral than the other, but neither is a stranger to action, both being army men. It is a many layered comic book. For instance, it can be read as a good adventure horror story with thriller elements, or it can viewed as holding up a mirror to events in Modern society. Zombie Detective piece or political allegory,
This excellent description and recognition of this trail blazing tale exploring new frontiers in both genre and comic storytelling is the latest in a series of compliments and praise for ROTTEN and its creative team. Others include-
"A super-cool approach." FANGORIA
"A must-buy … 5 George Romeros out of 5." Ain't It Cool News
"One of the strongest and strangest concepts I've ever heard, executed with horrific precision." ED BRUBAKER
"It's Deadwood by way of Stephen King. It's Undeadwood. It's witty, it's disturbing, and it's a must-read." MARK WAID
ROTTEN also made #5 on the Top Ten Comics of 2010 list at Pop Culture Zoo!
ROTTEN is a multilayered event that at times is a western, a zombie tale, a detective story, an exploration of conspiracies, a horror masterpiece, and even a satirical comment on modern politics. This fantastic comic adventure is now available in trade paperback from Moonstone! Order from your favorite comic retailer today or order directly from Moonstone Entertainment, Inc. at Moonstonebooks.com.
It's time for you to get ROTTEN.
Tags | drivethrucomics, moonstone