Posted on February 11, 2010 by Flames
As a testament to the continuing strength of the Mouse Guard brand and Archaia Entertainment's commitment to its creators, the publisher announced today that after selling 80,000 copies of David Petersen's Mouse Guard Vol. 1: Fall 1152 hardcover since its original release in 2007, the title is going back to press. Archaia's third printing of 10,000 copies, which are scheduled to arrive in stores in March, was expected to last over a 12-month period, but a deluge of advanced ordering due to the announcement of more Mouse Guard volumes has prompted the possibility of a fourth printing to commence in the coming months.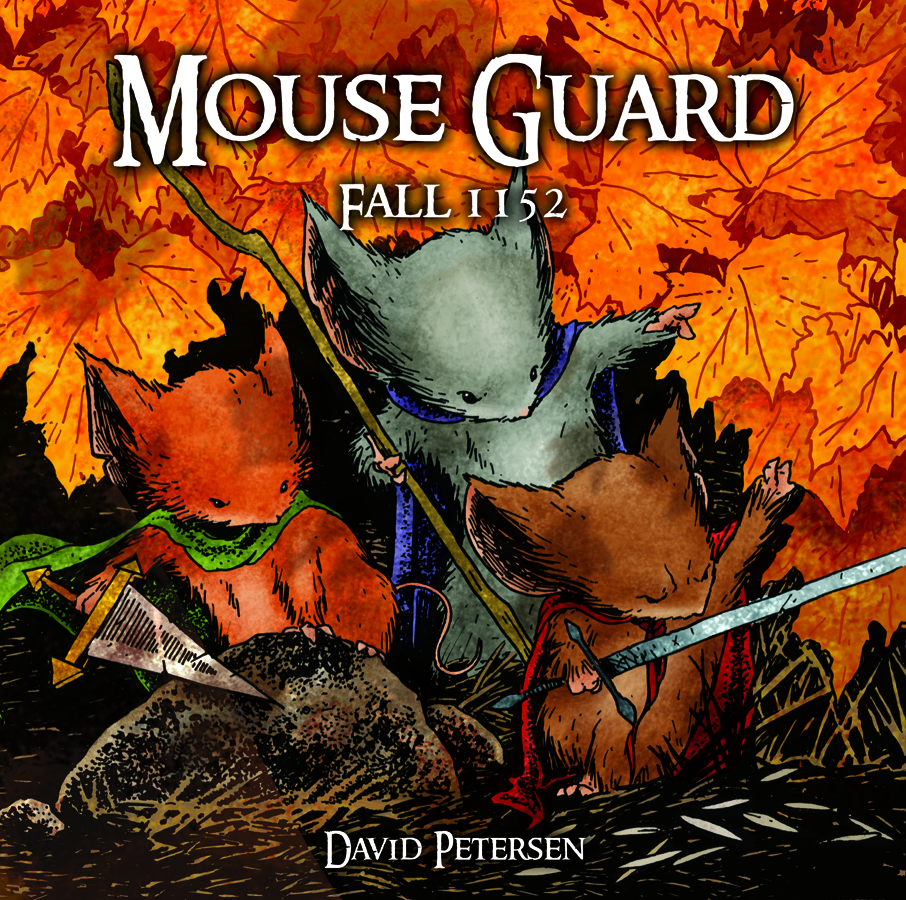 "Fall is an amazing story with equally incredible art, especially the tremendous coloring David puts on display on every page," said PJ Bickett, President of Archaia Entertainment. "So, it is no surprise to me that there continues to be a demand for this book. But it was a shock to see how overwhelming the demand has become since the release of Mouse Guard [Vol. 2]: Winter [1152]."
The reinvigorated popularity of Mouse Guard Vol. 1: Fall 1152 (full color, 192 pages, 8" x 8" hardcover with dust jacket, $24.95, ISBN 1-932386-57-2), the first volume in the popular all-ages series of books by Petersen, stems from newfound buzz in anticipation of three new projects coming in 2010:
• On Free Comic Book Day on May 1st, Archaia will release the Mouse Guard/Fraggle Rock flip book, which will feature a new, original 11-page story by Petersen. The issue will be distributed for free at comic book shops across the country. (Visit FreeComicBookDay.com for more information.)
• Also in May, Archaia will launch the Mouse Guard: Legends of the Guard anthology. The four-issue limited series revolves around several Mouse Guard members in a tavern, each telling a tall tale. The covers and chapter breaks will be written and drawn by Petersen, while the tall tales will be contributed by some of the most popular creators in comics, including Gene Ha, Guy Davis and Ted Naifeh.
• In September, Archaia rolls out Mouse Guard Vol. 3: The Black Axe, a six-issue limited series. Set in 1115, this prequel will reveal the backstory behind the legendary Black Axe, the most powerful member of the Mouse Guard.
"I'm thrilled that readers are continuing to enjoy my stories," said Petersen. "Going to multiple printings only means the audience is wider than we thought. Archaia is making sure that as that audience grows, my books are accessible without ever skimping on quality. Readers are passing along copies to friends and family in order to grow the audience, and that makes me grateful. With their help, and the work of librarians and teachers who are using Mouse Guard, I now have a heavy but enjoyable task of giving the audience more of this world. I'm excited to show them 'what happens next'!"
The new printing of Mouse Guard Vol. 1: Fall 1152 arrives in stores in March and will feature an updated trade dress.
For more information on Archaia or any Archaia titles please visit www.Archaia.com.
Archaia can also be found on Facebook (facebook.com/archaiacomics), MySpace (myspace.com/archaiacomics) and Twitter (twitter.com/archaiacomics).
Tags | archaia, drivethrucomics, mouse guard