Posted on December 26, 2011 by Flames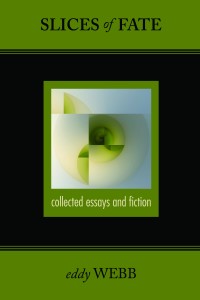 FR Press is pleased to announce the release of Slices of Fate!
Slices of Fate is a unique collection featuring the works of Eddy Webb. Stories within range from the author's nod to literary tales as in his piece "A Sheepish Trip to Yorkshire" to his more speculative work such as "The Battlefield."
Essays include a series on two of Webb's oldest loves: wrestling and Sherlock Holmes. Combined with several pieces of microfiction, this debut collection is an in-depth representation of Eddy's work over the course of several years.
"Enthusiastic, creative, honest, intelligent." – Jason L Blair, from the introduction.
Slices of Fate is available now in eBook format at DriveThruFiction.com!
FR Press has had an awesome 2011 and we'd like to celebrate with a big sale on all of our eBooks for the last week of the year!
This sale includes Slices of Fate, as well as Haunted: 11 Tales of Ghostly Horror, our horror anthology with ghost stories from Chuck Wendig, Rich Dansky, Alex Bledsoe, Jess Hartley, Jason Sizemore and more. Also included in the sale are Monica Valentinelli's The Queen of Crows and Instant Antagonist: The Creepy Cottontail!
This sale only lasts as long as 2011 does, so check out all of our eBooks at DriveThruFiction.com and DrivethruRPG.com today!
Tags | Flames Rising