Posted on May 13, 2020 by Monica Valentinelli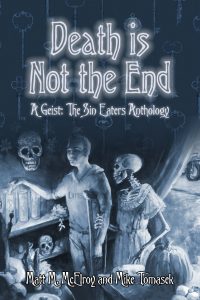 Death is not the end.
You learned that firsthand when you died. In that darkness, you made a deal that brought you back — with something else. Now, bound inextricably to a geist — a shade, a monster, a tragic, broken soul — you stand between the world of the living and the world of the dead.
This collection of eleven short stories inspired by Geist: The Sin-Eaters 2nd Edition explores the haunted places in the Chronicles of Darkness. The anthology includes dark tales written by Lauren Roy, Eric Zawadski, Renee Ritchie, Monica Valentinelli and more!
Death is Not the End for Geist: the Sin-Eaters is now available in eBook and print. You can find a copy on DriveThruFiction.com now or check for the Kindle and Nook editions in about a week.