Posted on October 10, 2015 by Flames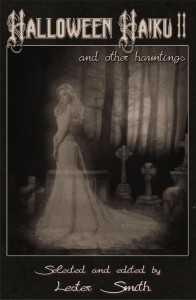 Popcorn Press is a small press publisher that has been producing Halloween-themed books of haikus, poems, and short fiction for the past few years. Each year the publisher picks a theme, like vampires, zombies, or Cthulhu, and collects a tightly-focused collection filled with poems written by dozens of writers ranging from Elaine Cunningham to Matt Forbeck.
To celebrate this year's All Hallows' Eve, you can support this small press publisher and enjoy six years' worth of spooky prose by downloading a discounted digital bundle from DriveThruFiction.com.
The digital Halloween Horror Six-Pack includes:
Cthulhu Haiku and Other Mythos Madness: The anthology contains a treasure trove of verse—haiku, senryu, lunes, tanka, sijo, free verse, a sestina, sonnets, some alphabetic morph rhyme, even a lipogram—along with several great flash-fiction pieces and short stories.
Cthulhu Haiku II and More Mythos Madness: This collection is devoted to H. P. Lovecraft's vision of cosmic madness, the star of which is the titanic, undying Cthulhu, who lies buried in cyclopean ruins beneath the sea, waiting for the stars to align and free him and his fellow Great Old Ones, while he works his machinations telepathically through a network of cultists.
Halloween Haiku: This book of poetry celebrates Halloween with over two dozen celebrated poets, in ninety-five haiku and related poems, plus a bonus monster card game!
Halloween Haiku II: In this new collection you'll find Halloween-themed poems and short stories by 44 different writers.
The Hungry Dead: What is it that the living find so fascinating about the living dead? If you enjoy carnivorous monsters, then you'll dig reading poetry and short stories featuring zombies, vampires, ghosts, and other flesh-eating dead creatures.
Vampyr Verse: Popcorn Press's first Halloween anthology, Vampyr Verse contains 79 poems, plus a short story, all devoted to that mysterious figure—the vampire! These selections run the gamut from pensive haiku to whimsical limericks to deadly serious free verse, and everything between.
If you're hoping to find print editions of these spooky books, visit the publisher's website at: www.popcornpress.com.
Happy haunting!

Tags | halloween, poetry, small-press