Posted on April 4, 2023 by Flames
Privateer Press announced today the official launch of an all-new army for the tabletop miniatures game WARMACHINE: MKIV. The new army, Brineblood Marauders, will be available in July 2023 in game stores and through the Privateer Press online store. Stat card information for all of the new models in this army will be available for free through the WARMACHINE app from the Apple App Store and Google Play ahead of the army's release.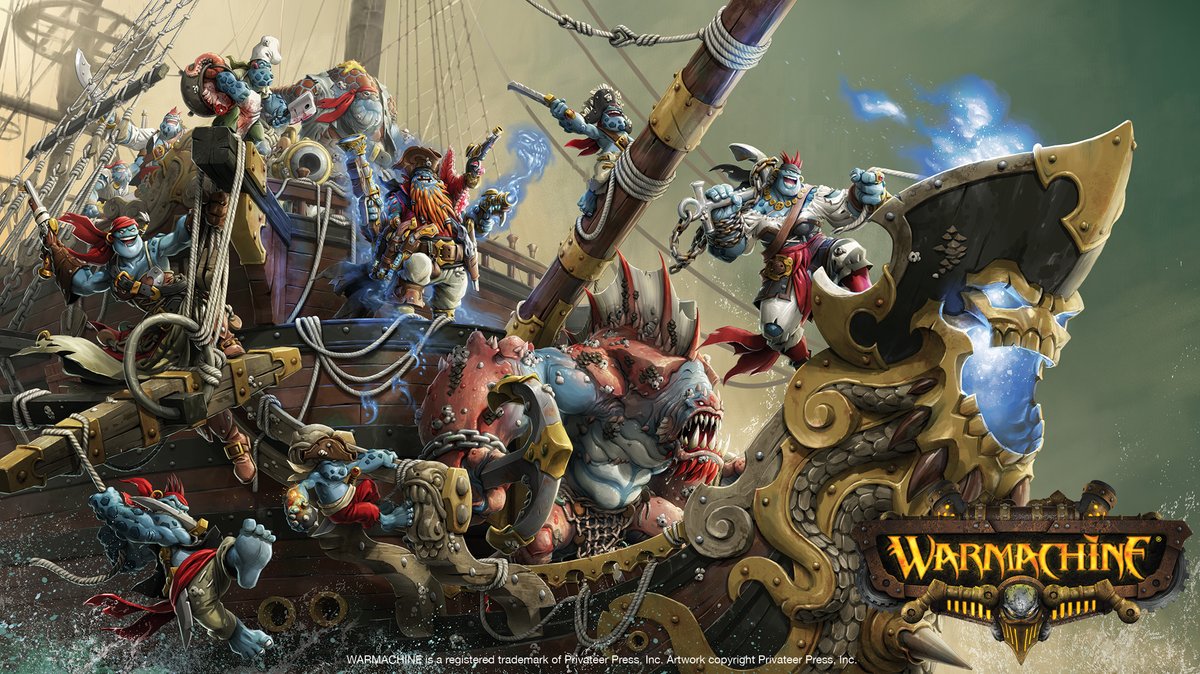 The new WARMACHINE: MKIV rolls everything from WARMACHINE's parallel brand, HORDES, into a single rules set. While HORDES is no longer maintained as a separate brand, warbeasts and warlocks are still battling over the Iron Kingdoms, and the Brineblood Marauders marks the first all-new warlock-led army to storm the tabletop.
From their hidden fortress seaport, the Brineblood Marauders hound the coast of Immoren, from the Gulf of Cygnar to the Windless Wastes. As merciless as they are merry, these Trollkin pirates reave in equal parts, riches and revenge, reparations for the injustices the nations of men have inflicted on troll-kind. But there are worse horrors than pirates claiming dominance of the high seas, and the Brineblood Marauders have found their kind once again caught between the Iron Kingdoms and the terrifying forces that seek their annihilation.
The Brineblood Marauders Core Army Starter includes all the models a player needs to play a 50-point game of WARMACHINE. The set contains the warlock Captain Firequill; two customizable warbeasts each with a selection of weapons, animus options, and upgrades; two full Marauder Crew units, three unit attachments, Pygmy Boarding Party, a Galley Crew support unit, and Surgeon — twenty-two unique models in all!
All Core Army Starters are shipped with a separate, free Starter Magnet Pack that can be used to magnetize the arms and heads of the warbeasts, allowing players to customize their load outs before each game.
In addition to stat card information for the Brineblood Marauders, the WARMACHINE app features complete MKIV rules, a new-player training guide, all of the stat card information for every model available for MKIV play, a robust army-building feature, list-sharing, and match play, as well as an optional subscription that delivers premium content to the app library every week.
"HORDES players have been waiting a long time to see what we had in store for the warlock-led armies of MKIV," said Matthew D. Wilson, creative director and owner of Privateer Press. "We're looking forward to rewarding their patience with something that is uniquely Iron Kingdoms and brings that extra dimension to the game that HORDES players love."
Three all-new armies are already available for WARMACHINE: MKIV with expansion releases continuing to support them: Orgoth Sea Raiders, Cygnar Storm Legion, and Khador Winter Korps, and soon, Dusk House Kallyss. In a departure from previous editions, MKIV armies will be released across a limited number of SKUs, including a Core Army Starter that presents a complete, ready-to-play army with options. An expansion box and four a la carte SKUs will make up the remainder the Brineblood Marauders releases.
Official Organized Play support for the MKIV edition is shipping now via the Journeyman Slow-Grow kits, followed by the Resurrection League beginning later this spring, which will pair with the ongoing narrative campaign available through the WARMACHINE app.
Tags | Miniatures, privateer press