Posted on June 5, 2009 by Jason Thorson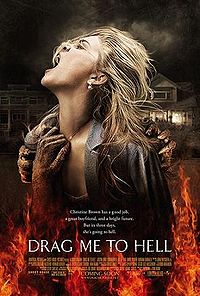 Not too long ago I would've decorated my kitchen with Evil Dead wallpaper had such a product been available. I was fully prepared to name my first born child Ash and the thought of having a chainsaw-enhanced appendage didn't seem all that bad to me.
Then Sam Raimi made three underwhelming Spiderman movies and I managed to get married. These events ushered in a new, more restrained era in my life and I agreed to relinquish both the home decorating and child naming duties. I also grew bored with Sam Raimi as a filmmaker. I got through it mainly by buying approximately 17 versions of each Evil Dead movie on VHS, DVD, and Blu-ray. It's obvious that those in the Home Video racket understand there are suckers out there like me, so why not release these movies incessantly and with slightly different packaging? I'll buy them. But I digress.
In 2002, Raimi and his long time production partner and Evil Dead cohort, Rob Tapert, formed Ghost House Pictures, a production company focusing on horror flicks. It appeared the writing was on the wall for another installment of greatness. Needless to say, I was excited and hopeful. Then I waited out one release after another of mostly mediocre and Americanized Japanese ghost movies made by people not named Sam Raimi. There was The Grudge, The Boogeyman, The Messengers, etc. Just as I had given up hope again, late last year word got out that Raimi was making his long awaited directorial return to the horror genre with a movie called Drag Me to Hell.
Great! But what about The Evil Dead?
Well, for all intents and purposes, Drag Me to Hell is a thematic and tonal extension of The Evil Dead, only Bruce Campbell is now an attractive young blonde actress named Alison Lohman. But make no mistake, Drag me to Hell is the real deal, fully capable of cultivating is own cult of fanatic lunatics.
Lohman plays Christine Brown, an ostensibly happy young woman who's got a nice-guy boyfriend played by Justin Long (Mac of Mac vs. PC fame) and a decent job as a loan officer. She learns that a promotion to the assistant manager position comes down to close consideration between her and her no-holds-barred co-worker, prompting her to make some uncharacteristically shrewd professional decisions. One of these decisions denies a third mortgage loan extension to Mrs. Ganush (Lorna Raver), an old and extraordinarily creepy gypsy woman. Christine's decision assures the woman's removal from her home. Feeling she's been shamed, an enraged Mrs. Ganush confronts Christine in the parking garage culminating in a violent exchange involving malicious use of a stapler. This results in Mrs. Ganush cursing Christine, unleashing a demon to track her down and drag her to hell.
Like Raimi's other genre offerings, Drag Me to Hell is every bit as inspired by the Three Stooges as it is H.P. Lovecraft. From beginning to end, we're bombarded with over the top slapstick sequences that are hilariously funny. But the magic of Sam Raimi's horror is that this shtick is juxtaposed against ghastly imagery and it's taking place within horrifying contexts, making your reaction to it the most uncomfortable and tense outbursts of laughter possible.
Technically, Drag Me to Hell is beautiful. When Evil Dead 2: Dead by Dawn came out, Raimi's oddball shooting and editing methods were considered ahead of their time despite being done on a miniscule budget. The times have certainly caught up with him as far as what's possible to put on screen, however, Raimi's style remains as unique as ever. Visually, the movie is full of classic Raimi conventions including extremely skewed angles, pulling focus in ways that boggle the mind, and high speed dolly shots alongside projectile eyeballs/torrents of vile fluids/flying ghouls/etc. Raimi's reliance on sound and the lack thereof as a guide through chaotic and kinetic visual sequences is used heavily here as well. The sound profile of the movie navigates our journey through some scenes more than the camera does. It's this carnival of sensory experiences that defines Raimi's directorial style.
Most importantly, Drag Me to Hell is morbidly creepy. Sam Raimi understands the essence of what makes going to haunted attractions on Halloween so damn fun. It's what makes Hansel and Gretel and Little Red Riding Hood endure for centuries and across multiple cultures. For lack of a better description, Raimi possesses the unique ability to make you afraid of Grandma. He makes movies about witches that want to consume you, your soul and all and it's a style of horror that's classic, spooky, and all too rare anymore.
Drag Me to Hell is like a live action pulp comic book of Hitchcock doing Romero. It's incredibly fun. If the goal of going to the movies is to be entertained, then this movie is a fantastic success. All the required elements are present: Alison Lohman's dynamic performance which includes everything from hilarity to depravity, Greg Nicotero and Howard Berger's KNB FX concoctions of latex and goop provide the cringe-worthiness, and of course the classically composed screenplay written and shot by Sam Raimi, bring to life his highly appealing and unique horror vision.
Here's to hoping that Raimi continues to make films in the genre in which he started and that suits his superb talents the best. And who knows, if I ever have a daughter, maybe my wife will take the name Christine into consideration?
3.5 out of 5 flames
Review by Jason Thorson
Tags | horror-movies, sam raimi