Posted on April 26, 2021 by Flames
Why have ordinary coffee when you can take a sip of a supernatural roast?
Valiant Entertainment has partnered with Geek Grind Coffee Company to release two SHADOWMAN coffee roasts: the Spirit of the LOA Medium Roast and the Darque Roaste! These special roasts are made from 100% single source, small-lot Columbian coffee from women-owned farms.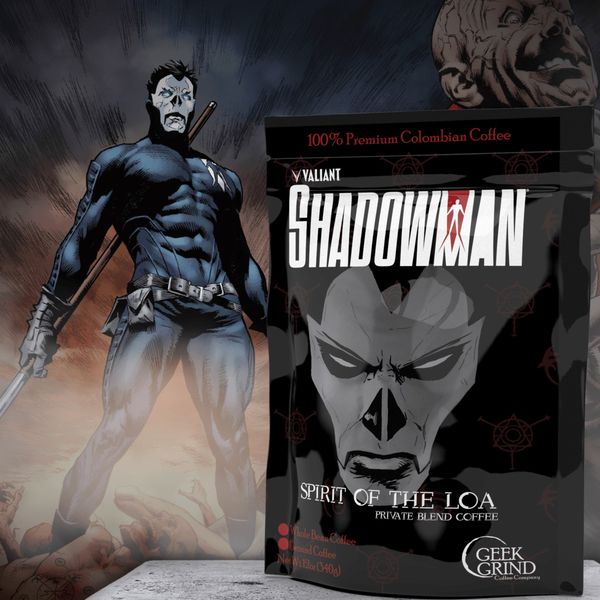 Russell Brown, the President of Consumer Products at Valiant Entertainment, is happy to partner with the company and give Valiant fans a new drink to enjoy. "The quality of Greek Grind's mountain-grown coffee, their ethical Colombian origin production process, and marketing prowess are all of the highest standards that Valiant looks for. And we're so excited to have coffee and tea this special to sip out of our Valiant mugs!"
Geek Grind Coffee appreciates all that the Valiant Universe has to offer and wants to provide a product that can make fans proud. "As fans for many years of the Valiant deep library of characters, I can say that Geek Grind Coffee could not be any more excited to work with the Valiant team to develop this delicious line-up of releases," stated Patrick Meyer, CEO and Co-founder Geek Grind Coffee. "Today, more than ever, fans demand products that reflect their passions which they can integrate into their daily routines. Coffee and tea products translate very well into these needs while delighting and surprising those same fans with gorgeous packaging and world-class coffee direct from our own family farms in Colombia."
Fans can purchase the Spirit of the LOA Medium Roast and the Darque Roaste. For more information, visit geekgrindcoffee.com. The Bloodshot "First Shot" Espresso Roast will be released at a later date.
Look for Shadowman and other graphic novels from Valiant Comics digitally at DriveThruComics.com and in softcover at your local comic book store!
Tags | drivethrucomics, valiant comics