Posted on July 25, 2011 by Flames
FlamesRising.com is excited to announce that all this week we are featuring exclusive previews, essays, reviews and more from Steve Jackson Games.
SJ Games Week begins today and ends on Friday, July 29th, 2011.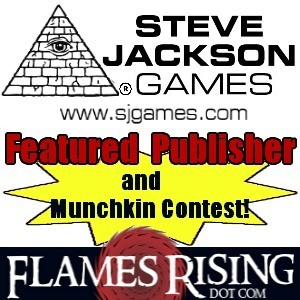 In addition to its selection of GURPS hobby games, Steve Jackson Games publishes dice, card and board games, too. Titles like Munchkin are heavily inspired by geek culture and often have a comedic tone. In the past, we have offered some coverage by offering a Munchkin Zombies preview, The Stars Are Right review, Munchkin Cthulhu review, Cthulhu Dice review and a Munchkin Bites 2: Pants Macabre review.
One of the other items Steve Jackson Games produces is toys, like their series of Chibithulhu plushies, which are guaranteed to induce a scream or two. Most recently, Steve Jackson Games won an 2011 Origins Award for their Cthulhu Dice Bag, offered in green and the limited edition purple.
This week also marks a special date in the history of the company, for Steve Jackson Games is gearing up to celebrate the ten-year anniversary of the Munchkin CCG. The Munchkin Czar himself, Andrew Hackard, will judge this contest and prizes will be awarded by Steve Jackson Games.
br>
br>
Munchkin 10 Year Anniversary Contest!

In conjunction with Steve Jackson Games week at Flames Rising, Steve Jackson is providing our readers with the chance to win a signed Munchkin game, supplement or booster pack.
Help Steve Jackson Games celebrate the ten-year anniversary of this popular card game! For a chance to win, tell the Munchkin Czar in the comments below about your favorite memory playing Munchkin.
The Munchkin 10 Year Anniversary Contest runs through midnight on Friday, July 29th, 2011 so be sure to enter today!
br>
br>
Contest Details
br>
Steve Jackson Games will give away three prizes to the first, second and third place winners. Each winner will pick a Munchkin game, expansion or booster pack of their choice and will also receive a +10 Bag of Munchkin d6.
Please read the fine print below to find out how you can win!
1.
One Entry Per Person
– We ask that you post one entry per person, so that your fellow
Munchkin
fans can have an equal chance of winning a prize.
2.
Entries That Will/Won't Be Considered
– By keeping these simple guidelines in mind, you will increase your chance of winning.
What Will Be Considered – Tell us about your favorite Munchkin memory (and why) in a comment below this article. Only entries posted by midnight CST on Friday, July 29th 2011 will be eligible to win.
What Won't Be Considered – Entries that are full of harsh or foul language, overly graphic/sexual depictions or discriminatory/slang comments will not be posted. Employees of Steve Jackson Games nor are FlamesRising.com owners eligible to win.
3. Valid E-Mail Address Required – When you post your comment, there's a field to enter your email address. In order for the winners to be notified, we ask that you please include a valid email address. This email address will not be posted publicly and FlamesRising.com will provide it to Steve Jackson Games on your behalf. FlamesRising.com will not use your email address for any other reason.
4. Valid Mailing Address Required – If you've won the Munchkin 10 Year Anniversary Contest, you will need to provide Steve Jackson Games with a valid mailing address so you can receive your prize. Steve Jackson Games may negotiate a prize substitute if you live outside of the U.S. This may (or may not) happen at their discretion.
5. Prizes and Notification – Steve Jackson Games will provide:
1st Place
– Winner's choice of Munchkin core set signed by Steve Jackson and a +10 Bag of Munchkin d6
2nd Place – Winner's choice of Munchkin Expansion supplement and a +10 Bag of Munchkin d6
3rd Place – Winner's choice of Munchkin Booster and a +10 Bag of Munchkin d6
The +10 Bag of Munchkin d6 is an exclusive pack of all the different custom Munchkin dies that now go into each core set.
Contest winners will be judged and notified via email approximately one-to-two weeks after the contest ends. There may be a slight time delay due to both parties attendance of GenCon: Indy 2011.
Good luck!
Tags | card-games, Contest, sjgames