Posted on June 6, 2011 by Flames
FlamesRising.com is pleased to announce a fun comic caption contest for Skullkickers, an action fantasy comic drawn by Jim Zubkavich that debuted with image comics last fall. We will be giving away a signed copy of the first hardcover collected trade dubbed Skullkickers: 1000 Opas and a Dead Body with an introduction by Robin D. Laws. For those of you who follow Jim's work, you may recall his artistic and writing style from the popular series of Exalted comics, which are available from UDON.
Skullkickers follows the action adventures of two iconic heroes. One of them is an unruly dwarf with red hair named Shorty; the other a warrior with a little more common sense named Baldy. Up until Issue Number 7 that is…
Without further adieu, contest details and rules follow below. Have fun!

Contest Details
FlamesRising.com will be giving away one hardcover edition of the Skullkickers comic. Please read the fine print below to find out how you can win!
1.
One Entry Per Person
– We ask that you post one entry per person, so that your fellow comic fans can have an equal chance of winning a prize.
2.
Entries That Will/Won't Be Considered
– By keeping these simple guidelines in mind, you will increase your chance of winning.
What Will Be Considered – Take a peek at the comic panel below and fill out the bubbles in a comment below this article. Hint: the barbarian on the left is named Shorty; the bald warrior is named Baldy. Only entries posted by midnight CST on Friday, June 10th 2011 will be eligible to win.
What Won't Be Considered – Entries that are full of harsh or foul language, overly graphic/sexual depictions or discriminatory/slang comments will not be posted.
3. Valid Email Address Required – When you post your comment, there's a field to enter your email address. In order for us to notify winners, we ask that you please include a valid email address. This email address will not be posted publicly. We will not use your email address for any other reason other than to notify you if you've won.
4. Valid U.S. Mailing Address Required – Once we've contacted you, we will need a valid U.S. mailing address to send you your prize. We will pick up the cost of shipping. If you are located outside of the U.S. and still wish to enter the contest, we will make arrangements for an alternate prize that can be delivered digitally.
5. Prizes and Notification – FlamesRising.com will provide one hardcover edition of the Skullkickers Volume 1 comic to one, lucky winner. Based on the number of entries, we may award random prizes for digital comics as well. Contest winners will be notified via email within one week after the contest ends.
Good luck! Here's your panel!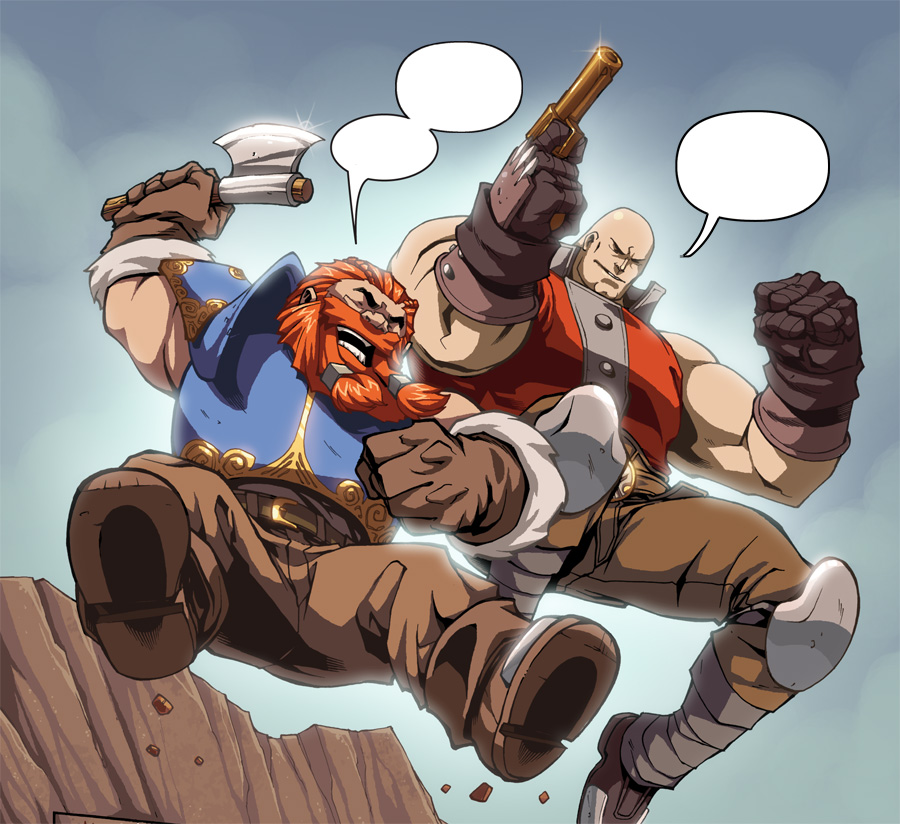 Tags | drivethrucomics, image comics