Posted on October 25, 2010 by Flames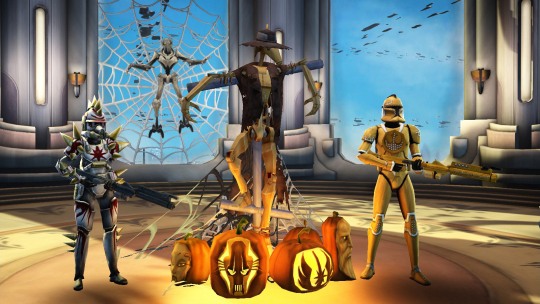 Sony Online Entertainment will be summoning the spirits, spooks and skeletons with the upcoming Halloween-themed activities and in-game events taking place in several of its hit online titles including, Star Wars: Clone Wars Adventures, Free Realms™, EverQuest, EverQuest II and Star Wars Galaxies.
Star Wars: Clone Wars Adventures: Sith O'Lanterns and Battle Droid Scarecrows have taken over the Jedi Temple! The inaugural Halloween celebration in Clone Wars Adventures adds plenty of creepy-crawlies around the virtual world. Players can participate in the daily Mask Handout to collect a new iconic mask each day, including Yoda, Jar Jar Binks, Padmé and Grievous! Players can also dress up their characters and droids and decorate their houses with festive items available for purchase in the Marketplace. R2-D2's Rocket Rescue minigame celebrates with a special spooky Halloween-themed level, complete with a ghost costume for R2-D2. Clone Wars Adventures Halloween celebration is scheduled to begin October 22 and run through November 5. Live in-game Halloween "Emissary Events" are scheduled for October 27 and 29 and November 5 at 3 PM PST/6 PM EST.
For more information please visit www.CloneWarsAdventures.com.
Free Realms Super Spooktacular: Players beware… werewolves and vampires are taking over in Free Realms™ this Halloween with the return of Super Spooktacular! With new werewolf and vampire costumes, and a new questline in Blackspore Cemetery to determine which freak is more frightening, the harrowing-fun Halloween update features daily trick-or-treating, creepy quests, in-game parties and lots of costumes for players and their pets. Join the Super Spooktacular in-game fun now through November 17! Free Realms is never going to know what bit it! The Free Realms Community Team is also scheduling live in-game costume parties to celebrate the Super Spooktacular.
For detailed information on Super Spooktacular, please visit www.FreeRealms.com.
EverQuest: EverQuest players will soon learn that the Scroll of the Skinwalker is wreaking havoc on Illis Taberish and all of the innocent people across the lands. In this spooky quest, players are challenged to track down and take down the Skinwalker before he traps the souls of the innocent and feasts on their flesh. Visit Rhaeda to learn the location of the Skinwalker's den before this terrifying new quest disappears November 7.
For more information please visit www.eqplayers.com.
EverQuest II: This year's Nights of the Dead celebration returns with the all-new Nights of the Dead Devotee questline to EverQuest II. New Halas is decked out with spooky decorations and Gigglegibber Goblins. Players can also purchase new costume illusions from holiday merchants and revisit their favorite quests and events from past Nights of the Dead celebrations, including trick-or-treating in Qeynos and visiting haunted houses in Freeport, for new rewards! Nights of the Dead is scheduled to run through November 8.
For more information please visit www.eq2players.com.
Star Wars Galaxies: Jabba the Hutt welcomes you back to the most fright-filled celebration in the galaxy – The Galactic Moon Festival is returning to Star Wars Galaxies! Spooky fun and ghoulish rewards await players who dare set foot in the eerily shrouded cities of Moenia on Naboo and Mos Eisley on Tatooine. A host of haunting characters in these cities leads the way to all the tricks, treats and terror-filled events of the Galactic Moon Festival. Dress up in outrageous costumes, trick-or-treat through the streets of Moenia and Mos Eisley and use coins to purchase special rewards. The Galactic Moon Festival is scheduled to run October 21 through November 16.
For detailed information, please visit http://starwarsgalaxies.station.sony.com.
Halloween-themed events are scheduled to take place in the virtual worlds of your favorite SOE games. Exact dates vary by title. Please log on to respective game sites for more information.
About Sony Online Entertainment – Sony Online Entertainment LLC (SOE) is a recognized worldwide leader in massively multiplayer online games, with hundreds of thousands of subscribers around the globe. SOE creates, develops and provides compelling entertainment for the personal computer, online game console and wireless devices. Known for its blockbuster franchises and hit titles including EverQuest®, EverQuest® II, Champions of Norrath®, Untold Legends™, PlanetSide®, and Star Wars Galaxies, as well as the recent kids' phenomenon Free Realms™, SOE continues to redefine the business of online gaming and the creation of active player communities while introducing new genres on all entertainment platforms. Headquartered in San Diego, CA, with additional development studios in Austin, TX, Seattle, WA, Denver, CO, and Tucson, AZ, SOE has an array of cutting-edge games in development across various platforms and genres for audiences of all ages.
SOE, the SOE logo, EverQuest, Champions of Norrath, and PlanetSide are registered trademarks and Untold Legends and Free Realms are trademarks of Sony Online Entertainment LLC in the United States and/or other countries. All other trademarks and trade names are properties of their respective owners. All rights reserved.
About LucasArts – LucasArts, a Lucasfilm Ltd. company, is a leading developer and publisher of interactive entertainment software worldwide for video game console systems, computers and the Internet. Based in San Francisco, Calif., as well as on the Internet at www.lucasarts.com, LucasArts was created in 1982 by George Lucas to provide an interactive element to his vision of a state-of-the-art, multifaceted entertainment company.
LucasArts and the LucasArts logo are registered trademarks of Lucasfilm Ltd. SOE and the SOE logo are registered trademarks of Sony Online Entertainment LLC. © 2010 Lucasfilm Entertainment Company Ltd. or Lucasfilm Ltd. & ® or TM as indicated. All rights reserved.
Tags | gaming, halloween, online games