Posted on August 3, 2008 by Monica Valentinelli
As you know, Flames Rising burned the midnight oil to ensure that the site redesign was more user-friendly for you. We've been proud to feature several options of Flames Rising RSS feeds to work with your preferences.
After dozens of requests, Flames Rising is happy to announce that we are now recommending an easy way to put Flames Rising's content right on your website or blog that we've tried ourselves.
Dubbed the "RSS Reader Widget," this widget is fully customizable to ensure it fits your site's theme. For an example of how the widget might work for you, take a look at Flames Rising's Project Manager Monica Valentinelli and how she chose to implement it on www.mlvwrites.com.
If you have any technical difficulties installing this widget on your site, or have other questions that you're dying to ask, please feel free to contact Flames Rising. We promise we'll get back to you as quick as we can.

How to Customize RSS Reader Widget
First, you'll want to go to SpringWidget's Preview of the RSS Reader Widget. Are you there? If you are, you should see a header that reads "RSS Reader Widget."
Next, you'll want to take a look at the left hand nav bar.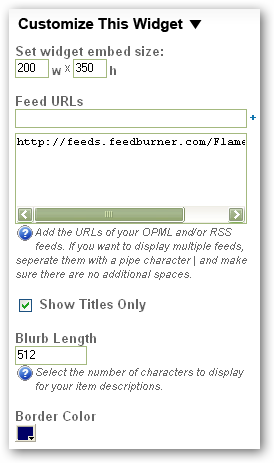 Let's run through the options.
Set Widget Embed Size: This is pretty standard, just designate the height and width of the widget, according to how you want it to appear on your blog or website. Monica found that the preview option was an added plus to make sure she was choosing an appropriate size.
Feed URLs: Flames Rising's main RSS feed has already been chosen for you, so you can either skip this step or add another URL. Monica found that adding additional feeds was a little tricky, and took some work. She opted not to use it, because readers would have to arrow over to see additional feeds instead of seeing them in rotation–which would be ideal. The widget was really designed to be an alternative RSS feed reader, but also allows users to drop in the latest headlines on any site.
Show Titles Only: This option, when checked, only shows the titles of the posts. If left unchecked, you'll want to figure out what your "blurb length" is. Depending upon the size of your widget, we recommend previewing the blurb length to ensure the text is wrapping the way you want it around your images.
Border Color: Here you can pick a color to match your site's or blog's theme.
Installing the RSS Reader Widget on Your Site or Blog
Now that you've gone through all the trouble of customizing your widget, you'll want to click on the button that says "Click Here to Get the Code!" You'll notice that when you do, you get a little screen that says "Share this Widget" with a list of icons.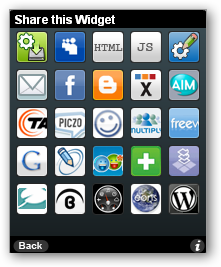 Plenty of options! Whether you choose HTML or the WordPress feature like Monica did, once you get the code you'll need to paste it into the appropriate place on your CMS. For blogs, you'll want to create a new spot on your sidebar (for example, add a new text box to your sidebar and then copy/paste the code). Now you're ready to feed the fire!
If you have a different idea or suggestion for syndicating the Flames Rising horror fanzine, feel free to post a comment. Your dark and gloomy thoughts are always appreciated.
Tags | blogging, ebooks, Flames Rising