Posted on June 18, 2009 by Billzilla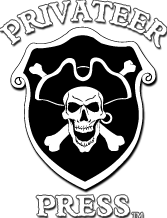 It's difficult to imagine the miniatures world without in it, yet this company has been in existence for less than seven years. With their breakout hit Monsterpocalypse and their solid Warmachine and Hordes skirmish-level combat lines, Privateer Press is well-situated to be a force in the industry for years to come.
The Warmachine and Hordes product lines mesh well with dark fantasy, as they have a number of factions tailor-made for people of such inclinations. A perfect example is the Gorax, a light warbeast from the Circle Orboros faction in Hordes. The Gorax, looking very troll-like – or even like an Oni from Oriental mythology – strains at the chain that holds him to a large boulder. The pose is interesting and well-executed, and the figure's rippling musculature and tufts of scraggly hair combine to give this model a ton of character. At a $17 MSRP, this model is a smidge pricey, but a first-class sculpt never the less.
[...more]