Posted on June 18, 2009 by Billzilla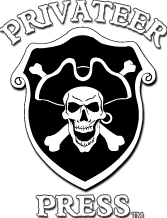 It's difficult to imagine the miniatures world without Privateer Press in it, yet this company has been in existence for less than seven years. With their breakout hit Monsterpocalypse and their solid Warmachine and Hordes skirmish-level combat lines, Privateer Press is well-situated to be a force in the industry for years to come.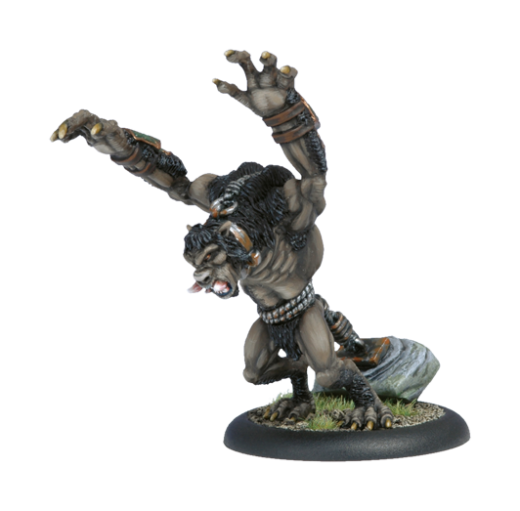 The Warmachine and Hordes product lines mesh well with dark fantasy, as they have a number of factions tailor-made for people of such inclinations. A perfect example is the Gorax, a light warbeast from the Circle Orboros faction in Hordes. The Gorax, looking very troll-like – or even like an Oni from Oriental mythology – strains at the chain that holds him to a large boulder. The pose is interesting and well-executed, and the figure's rippling musculature and tufts of scraggly hair combine to give this model a ton of character. At a $17 MSRP, this model is a smidge pricey, but a first-class sculpt never the less.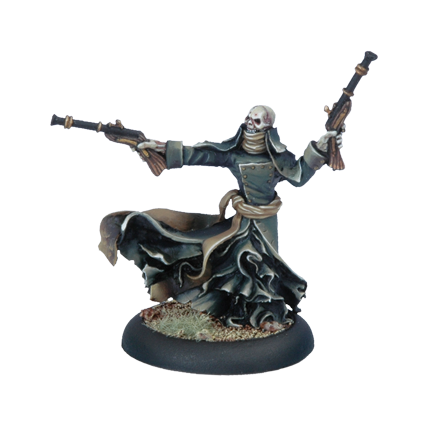 Two factions in particular caught my eye amongst the Warmachine product line: Cryx, the faction of industrial zombies, and Mercenaries. From the Cryx faction we have two representatives: a Pistol Wraith and Revenant Pirates. The Pistol Wraith is an independent model, and this pose shows the fearsome creature firing one pistol with the other held in reserve. For my money, this is a beautiful sculpt – well-proportioned and animated – you can almost feel the wind that's making its scarf and cloak billow. The pose itself is nothing special, but the level of detail lavished on this figure is stunning. One small complaint: the head of this model seems a bit small for the body. At $8, this fellow seems a bit on the pricey side, but only a little.
The Revenant Pirates are very handsome figures. Created by the half mechanic, half necromancer Cryx necrotecs, these undead sailors crew the notorious blackships. The models I received had separate arms and heads, but no spares. This allows for a modest amount of creativity in personalizing the models by switching around heads and arms, but an extra arm or head thrown in would be nice to allow for more variety. Their swords are huge compared to their bodies – a popular design choice these days, but to me they look out of place. $10 for two is a pretty reasonable price for these guys.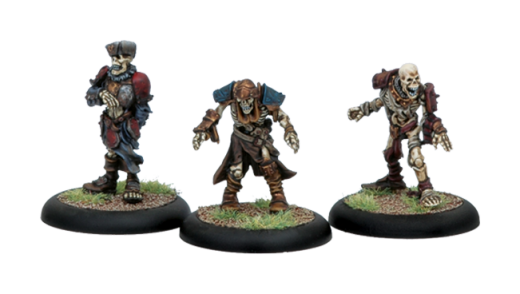 Lastly we have the Mercenaries faction, represented by the Risen. Based on characters from the original Iron Kingdoms setting book and adventures, these undead served the teen-aged necromancer Alexia Ciannor in her quest for revenge. The Privateer sculptors have a true flair for undead, and these boys are no exception. The pack I received included three models, all unarmed, all wearing ragged clothing with bits and pieces of armor. The poses look natural if not too dynamic, and at a $10 MSRP for three figures, the Risen pack is the best deal among those packs I received.
Privateer is clearly doing things right; they have a devoted and growing following, and their models are first-rate quality. In the future I would love to see them give more credit to their sculptors; With Privateer Chief Creative Officer Matt Wilson as a name artist in the industry himself, I would think he'd be more keenly aware of the power of name marketing. While they do credit their sculptors in their bi-monthly magazine No Quarter, having something on the package itself might be more direct.Privateer's sculptors are good enough that it's worth noting who they are in order to buy more of their work. Privateer's products are worth noting too; they bring solid craftsmanship and fun, well-designed games to the table.
Visit www.privateerpress.com for more information.
Bill Bodden

Tags | Cryx, Hordes, Miniatures, privateer press, War Machine