Posted on March 24, 2011 by Jason Thorson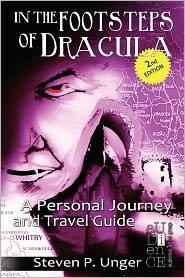 It's lonely being someone who takes horror so seriously, it borders on being a clinically definable malady. It's rare to come across another human being whose affliction rivals my own. But alas, I have found him and his name is Steven P. Unger, author of the book "In the Footsteps of Dracula: A Personal Journey and Travel Guide (Second Edition)". In fact, he and I could rightfully start a club for people like us, only I fear we'd spend our days arguing over who gets to be vice president, because being the president of such a club would be more than a bit embarrassing.
But I digress.
Unger's book is a thorough analysis of the people and places that comprise Bram Stoker's Dracula, both within the text and without.
[...more]