Posted on March 24, 2011 by Jason Thorson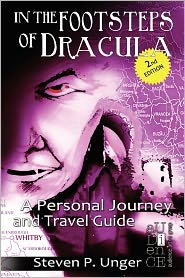 Available at Amazon.com
It's lonely being someone who takes horror so seriously, it borders on being a clinically definable malady.  It's rare to come across another human being whose affliction rivals my own.  But alas, I have found him and his name is Steven P. Unger, author of the book "In the Footsteps of Dracula: A Personal Journey and Travel Guide (Second Edition)".  In fact, he and I could rightfully start a club for people like us, only I fear we'd spend our days arguing over who gets to be vice president, because being the president of such a club would be more than a bit embarrassing. 
But I digress. 
Unger's book is a thorough analysis of the people and places that comprise Bram Stoker's Dracula, both within the text and without.  Unger retraces the journeys described in Stoker's masterpiece as well as the true exploits of Prince Vlad the Impaler and the region in which he reigned, Stoker's stomping grounds, and finally how Stoker took these elements and spun Dracula into the global pop cultural fabric.
The book is entertaining enough by virtue of its subject matter alone.  However, "In the Footsteps…" is as ambitious an analysis of a subject as anything I've ever read.  It's part travel guide, part history book, part biography, part critique, part kitchen sink – I mean everything is in it!  Some of the highlights include the first ever published review of Bram Stoker's Dracula which first appeared way back on June 15th, 1897 in the Manchester Guardian, as well as a multitude of photos taken along Unger's travels, depicting the real life locations, buildings, and population as described in Dracula as well as their counterparts composing the haunts of Vlad the Impaler.  And as we all know, pictures are neat!
The first part of the book is conveyed through Unger's memoires as he travels "In the Footsteps of Dracula" going from place to place following along with the travels Jonathon Harker and later locations depicted in the novel.  What's most fascinating here is the number of places that Stoker had never seen, yet describes fairly accurately.  While other places, such as modern day Bistrita have turned into Dracula-themed tourist attractions.  Unger also weaves an accurate portrayal of Stoker's inspiration and his process for what became the Dracula novel, as well as the context in which all this happened. 
The second part of the book focuses on Vlad the Impaler.  Unger discusses Vlad's true, historical story arc.  This is followed by more travel memoires depicting the notable locations relevant to the good Prince as well as more on Stoker's environment.  The remainder of the book takes a practical tact, describing other notable locations that are related to Dracula to varying degrees and then offering almost purely travel guide type information.  It's like Triple A for vampire fans.  This includes information on currency exchanges, modes of travel and their costs, food and lodging, internet access and just about everything else one may need to know to repeat Unger's exhaustive travels.
"Following in the Footsteps of Dracula: A Personal Journal and Travel Guide (Second Edition)" is exactly what the title implies it is.  But what the title doesn't imply is how rich this book is with information.  It really is stunning.  Steven P. Unger deserves high praise for the mere existence of his opus, but moreover, the book is well written and provides the ultimate tome of Dracula data for classic horror fans.  You'll be hard pressed to find a more entertaining nonfiction read.
Review by Jason Thorson
Tags | bram-stoker, dracula, nonfiction