Posted on September 2, 2008 by Flames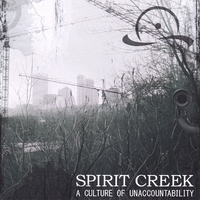 The newest CD from Spirit Creek, A Culture of Unaccountability, is the much anticipated CD release from them for several years. After a too long sabbatical from the band, they appeared out of nowhere on the scene again in Milwaukee, bringing with them their original lead guitar, Drew Ingle, and new bassist, Mike Jakubiak, as well as a brand new sound. Taking inspiration from Pearl Jam, Lacuna Coil, and The Cure, A Culture of Unaccountability has breathed new life into the Spirit Creek lineup.
After the introduction, The Black Co. bursts into the speakers, driving home the concept behind the album title.
Review by Crystal Mazur
[...more]