Posted on August 24, 2020 by Flames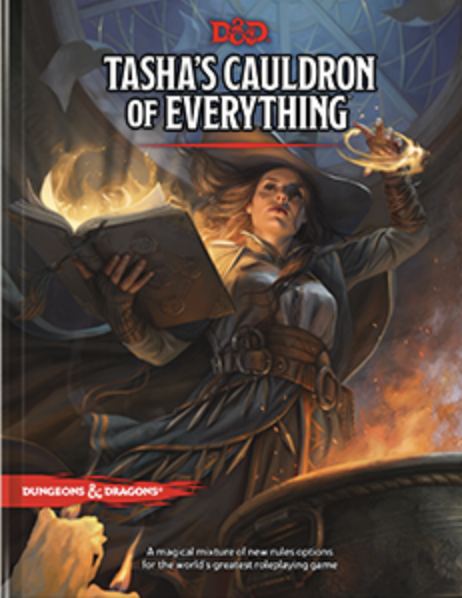 What wonderful witchery is this? Dungeons & Dragons presents a magical mixture of new rules options and subclasses for the world's greatest roleplaying game with Tasha's Cauldron of Everything. The contents of Tasha's Cauldron of Everything will be available on November 17, 2020, with a cover by Magali Villeneuve and an alt-cover by Wylie Beckert only available through local game stores. Pre-orders are available now, and fans will get a chance to preview some of the new subclasses and more at D&D Celebration, an online gaming event open to fans all over the world, taking place September 18-20.
Following in the footsteps of Xanathar's Guide to Everything and incorporating more than a year of playtest feedback from the D&D community, Tasha's Cauldron of Everything introduces class features and subclasses which add flavorful options to the character classes players already enjoy. The artificer class, a fan favorite, also appears in the book, as do group patrons who can help mold the characters' story and a customization option that lets you shape your character's origin.
"The special witchcraft of Tasha's Cauldron of Everything is the freedom it gives you to personalize your D&D character in new ways," said Jeremy Crawford, the book's lead designer and the principal rules designer of Dungeons & Dragons. "D&D adventurers are exceptional, and this book gives you the tools to make them and their story even more extraordinary."
This witch's brew wouldn't be complete without new feats, new spells for both player characters and monsters and new magic items, including magic tattoos and mighty artifacts. The book also contains new tools for Dungeon Masters, such as expanded rules for creating and playing sidekicks and rules for venturing into various supernatural environments. The book closes with a plethora of puzzles perfect for any campaign, ensuring there's something to please every adventurer's appetite.
A select bite-size menu of features from Tasha's Cauldron of Everything are being presented by the #DnD community today, so look for more news from Tanya DePass of "Rivals of Waterdeep," Sam De Leve of "A Darkened Wish," Viva La Dirt League and more!
On Sept 18-20, D&D Celebration features tons of online D&D gameplay so fans all over the world can gather together, roll some dice and slay frost giants to celebrate the launch of Icewind Dale: Rime of the Frostmaiden. The largest virtual D&D game ever played is scheduled for Saturday, September 19 with more than a thousand concurrent players participating in an epic adventure administered by D&D Adventurers League all with the same meta goal to defend Icewind Dale. With panels featuring D&D game designers discussing the future of D&D, community-led panels and streamed live game play from luminaries in the global D&D community, every fan has something to celebrate at D&D Celebration 2020. All proceeds from tickets for D&D Adventurers League play will go to support Extra Life benefiting Children's Miracle Network Hospitals.
Click for more details on D&D Celebration or sign up to play a D&D Adventurers League game.
Tags | dnd5e, dungeons & dragons, wotc