Posted on February 28, 2023 by Monica Valentinelli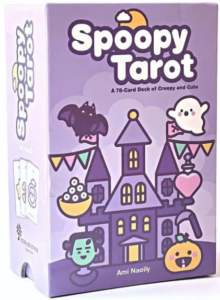 Designed by Amí Naeily, the Spoopy Tarot is a kawaii-style tarot deck with a "spoopy" theme–a haunted house filled with candy, ghosts, bats, eyeballs, potions, and so much more.
Popularized by Marie Lenormand, modern tarot card readings range from the esoteric to the pragmatic. In the Spoopy Tarot, the Major Arcana is accurately described as The Fool's Journey and the suits as the Fool's lesser journeys to acquire wisdom. When combined with the theme–a haunted house–it's easy to imagine each card is its own element or character The Fool is interacting with. This straightforward approach to the tarot is a nice complement to the kawaii-style art, because it's the type of deck that encourages you to have some fun telling stories or lean into your insight.
What's interesting about the Spoopy Tarot is Naeily's straightforward take on the tarot in a Halloween-themed way, while retaining some iconography from traditional tarot. The Major Arcana cards are customized for this deck and the suits are not. For example, there is no Hanged Man in the Major Arcana; it's been replaced by a Bat who is hanging upside down instead. Though cups are depicted as potions, wands are candy, swords are bones, and pentacles are eyeballs, the meanings and descriptions follow the traditional suits. Combined, it's an interesting theme that leans into characterization and clear symbolic meanings.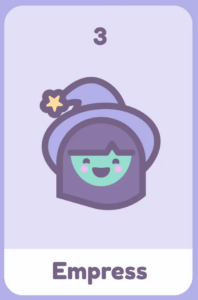 Drenched in cute-but-scary iconography, the Spoopy Tarot has a simplistic approach to the art. There's no layers of meaning in the illustrations themselves; the card backs are the same upright or reversed, too, perfect if you read reversals.
The lavender-based color palette is limited by design, but that is something to think about if you need high contrast or accommodations due to red-green color blindness. Keep in mind the numbered portion of the suits do not describe the card or the art; the four of wands is just "4" and you have to figure out which suit was pulled. Until you've gotten to recognize the symbols, it might take you a bit to remember which suit is which.
The production quality of the deck is high; the cards are traditional tarot-sized, heavyweight cardstock with rounded corners. The box is high quality as well and fits all 78 cards and a guidebook. The tiny book is packed with descriptive shortcuts, three traditional tarot spreads, and both upright and reversed meanings.
If you like cute-but-scary themed tarot decks, the Spoopy Tarot has a lot of treats to offer. I hope the next edition will include a haunted house-themed tarot card spread and lean into the thematic nature of the suits a bit more. I definitely want to learn more about those potions!