Posted on September 6, 2016 by Monica Valentinelli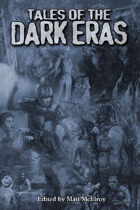 "Suffering of the Unchosen" is one of many stories found in the recently released anthology titled Tales of the Dark Eras. Set in and near Salem Village in the early 1690s, the story follows a grieving husband and father who, at first glance, is the victim of a terrible crime. His wife and step-child had been murdered by hunters, and he believes his family was falsely accused.
On the surface, the primary plot is right in line with "Doubting Souls" from Chronicles of Darkness: Dark Eras. During this era in history, all mortals believed the supernatural was real. This basic premise complicates matters greatly for hunters who know the supernatural is real and have to sort out the differences between what is and what isn't. That area of morally grey is far more interesting to write than cooking up a clear antagonist, which is why I designed the story the way that I did. The layers of the plot were added for a few reasons, too, one of which was to further the idea that hunters and their enemies have been operating for a long time. The second, was to play around with character perspective and show just how dangerous life was for hunters during that era.
Hunter: The Vigil fans will grasp exactly what I'm talking about in this post after reading the story. For fans who may not remember the first edition of the game, or those who have never read Hunter, I rewrote the ending a few times to ensure it would be satisfying, regardless.
I had a lot of fun writing this Hunter: The Vigil story, and I hope you'll be inspired to check out the collection.
Tales of the Dark Eras is available now in eBook and Softcover editions at DriveThruFiction.com!
Tags | alternate history, anthology, hunter, hunter the vigil