Posted on December 9, 2021 by Flames
With Dancing with Tombstones, Michael Aronovitz, the author of Alice Walks and The Sculptor takes us deep inside the haunt of our most secret repressions. Today, Michael stopped by to talk to us about using horror to fill the empty spaces in genre fiction and how this new collection of tales was created during a time of change (and learning use Zoom).
The tales themselves are eclectic, and so are all of us.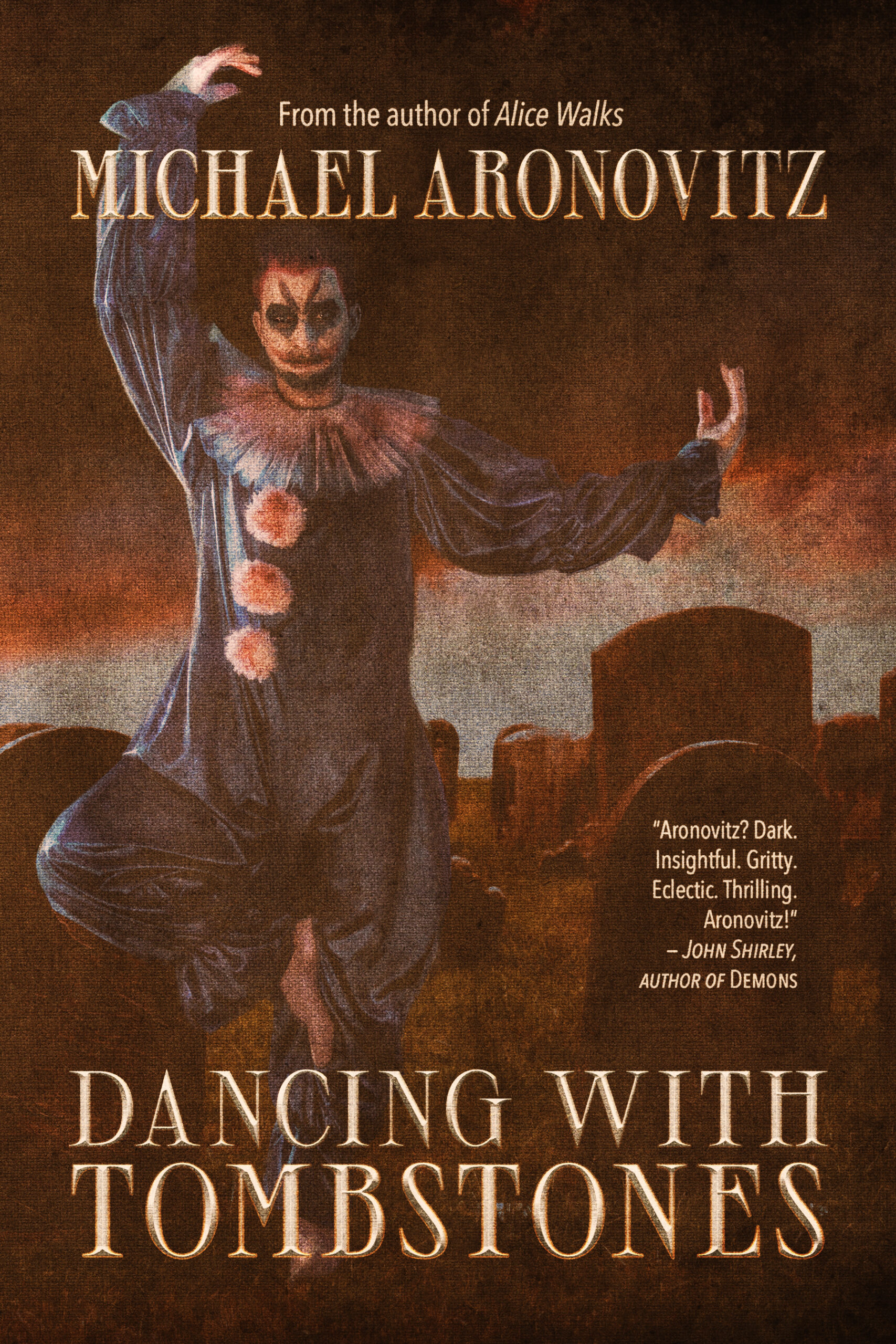 I write because I have to. I am loosely paraphrasing Stephen King here, but it makes sense. I am brutally compulsive and I go hard from 4:30 in the morning until 4:00 in the afternoon when it's Miller time, or more accurately, Stella Artois Solstice time, or if we are in season, Hacker-Pschorr Oktoberfest time. I am a college professor of English, and while I teach an average of six classes a semester at three different universities, plus ten hours a week of tutoring on Zoom, it isn't enough. Oh, don't get me wrong…I am busy as hell, but I am the type that needs to fill in every moment. I don't watch television during the day. I don't eat bon bons. I don't play solitaire.
I live for the work, and writing fiction has been my outlet for rage, joy, frustration, satisfaction, jealousy, hate, thrills, weird dreams and rich nightmares since I was thirty-one years old back in 1992. I don't outline. I discovery write. That way I know I won't telegraph anything. Yes sir. If I have to work that fucking hard to think up a twist, I think I can please (and surprise) a few readers. I also get a charge from not knowing exactly what I am going to write until I sit down and do it, and while many would claim I am jumping off cliffs and hoping for hang gliders, so be it. I refuse to devote my heart and soul to something that fits some kind of routine or someone else's trend. I love writing because it is frightening. It's mine. It fills the quiet moments with a sort of lust that is so fucking tasty it seems almost illegal.
I write horror because it is the most fun. It is also a blast to have a student with an analysis essay share the screen to work on a problem with parallelism while I speed read ahead two paragraphs to form pedagogical strategies in terms of structure, syntax, and semantics. As I said, I am a worker-bee. I am also a rebel, and I admit that there are many who do not like the horror genre I am so addicted to filling the empty spaces with. Still, I don't find horror to be a genre at all. It is a spice. It flavors almost all the other genres, and though I am a dark motherfucker, I try hard not to fall too much in love with the flash and scorch of the condiment. In other words, I don't just write jump-scares. I have actually been called "literary," but rest assured, I never tried to be William Shakespeare or Stephen King for that matter. I just always wanted to write stuff that didn't suck. Some would fill the empty spaces with romance. Mystery and intrigue and all that. I am not engaged, however, unless there is bonemeal in the garden soil and body parts in the sewer tunnels. Honestly, I don't see the difference. I just put a bit more accent on the peril. And I savor my moments. I take my time, because no one speeds up to see a car accident.
My new collection titled DANCING WITH TOMBSTONES is a lifetime work, a greatest-hits record that I am stoked to share with everyone. When the pandemic hit and we were all under quarantine, I had to learn to use Zoom. I had to learn how to use Canvas and I had to build online classes. I also had to fill the empty spaces, and I did what many authors dream about by gathering my seventeen best shorter works, all previously published in anthologies, collections, and magazines, and rewrote every one of them. I cherished them, changed them, modernized them, made them as perfect as humanly possible. Some needed only a tune-up, like "How Bria Died," which first appeared in Weird Tales, the Uncanny Beauty issue, summer 2010, and then got chosen for The Year's Best Dark Fantasy and Horror, 2011, Prime Books. Other stories needed extensive work under the hood, new tires, and a fresh paint job, like "The Exterminator," my lone scary clown story that first appeared in my collection Seven Deadly Pleasures, 2009, Hippocampus Press. In fact, horror-artist Lynne Hansen based the cover art on "The Exterminator," making the scary clown in my likeness, which I find absolutely hilarious in all the right ways.
I put the stories into four categories, that strangely describe my life, and therefore (hopefully) everyone else's: Girls, Psychos, Tools and Tech, and Martyrs and Sacrificial Lambs. Make any connections that you want. I found the groupings to be a good parlor trick, like the smooth generalizations that seem so personally tailored during a palm reading. For me, females run the world, most of us are psychos wearing masks, I spent years in the trades selling power tools, and I feel deep down that our freedom is constantly sacrificed, sometimes for the greater good, yet always at the cost of the soul.
The tales themselves are eclectic, and so are all of us. The last thing I wanted was for the book to be a bunch of paintings that looked the same except for the given subject, and the last thing I believe is that people (or their art) can be categorized. To my wife, I'm a brave little fool. To my son's acquaintances, I am a parent. To my old high school friends, I will be forever the rocker playing keg parties with his cover band, and to my college students I am both an authority figure and (hopefully), a colleague. As for DANCING WITH TOMBSTONES:
"How Bria Died" is a ghost story that takes place in a charter school.
"Cross-Currents" is a drama about a six-year-old girl with strange visions.
"The Girl Between the Slats" is about levels of madness.
"The Sculptor" concerns a serial killer who makes statues of gore.
"Puddles" is about obsessive-compulsion.
"Exterminator" is a scary clown tale.
"Quest for Sadness" is about The Devil on earth.
"The Matriarch" is a serial killer piece. Breakdown lane. What's in the trunk…
"Soul Text" is about killer technology.
"The Grave Keeper" is about a phantom digging up caskets.
"The Tool Shed" is haunted.
"Toll Booth" is a novella about death and buried secrets.
"The Echo" is about hell on wheels.
"The Falcon" is about a spirit haunting the woods.
"The Soldier" is about bullying and the soft revenge of a sweet and glorious ghost.
"The Legend of the One-Armed Brakeman" is a twisted campfire tale.
"The Boy in the Box" is about little league baseball and poltergeists.
Altogether, this collection is my best work and something I am proud to put in front of readers. I wrote all the stories because I had to. I rewrote them all because I was compelled to raise the bar. It's a cool book. Maybe it will fill some empty spaces.
DANCING WITH TOMBSTONES is available now at CemeteryDance.com.
Tags | modern-horror, small-press