Posted on May 2, 2011 by Flames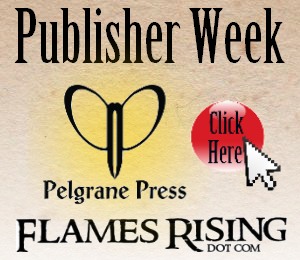 Over the years, FlamesRising.com has provided several reviews from games and music produced by Pelgrane Press.
To kick off Pelgrane Press Week today, we dug into our archives. In this round up of our top ten Gumshoe RPG reviews, we highlight your favorite games, supplements and gaming aids.
Take a trip with us into the keep as we remember what we liked (and what we didn't) about games like Trail of Cthulhu and Mutant City Blues.
br>
br>
Top 10 Gumshoe-Related Reviews
br>
1. Armitage Files Review – The Armitage Files for the Trail of Cthulhu line offers an old idea with a fresh approach. This smart-looking book centers around ten documents (authentic looking pieces ready for handing out to players) and how Keepers can use said documents in a campaign.
2. Four Shadows Music Review – Trail of Cthulhu: Four Shadows is a collection of four songs designed to be played during your Trail of Cthulhu game. The titles of the songs are: Anagnorisis, Ruminations, Pulp Trail of Cthulhu Theme and Purist Trail of Cthulhu theme. The variations in the theme songs are for the two, different styles of play.
3. Rough Magicks Review – The whole work is a fascinating delve through ideas, making the concept of 'magic' work in an appropriate way within the world of Trail of Cthulhu. The rules for a Magic Ability work well and are consistent with the rest of the system, but the real joy are the underlying ideas that make it all come to life.
4. Rough Magicks Review – For me, the shining part of this book has to be Idiosyncratic Magic Expanded. This magic is one part Cthulhu and one part Unknown Armies. The purpose of this magic is to enhance the "normal" things your character attempts.
5. Shadows Over Filmland Review – This is a masterful fusion of two seminal strands within the horror genre: 1930s cinema and the writings of Lovecraft and similar authors. The adventures tend to the Pulp side, but there's plenty for the more Purist to revel in as well. Whatever your characters like best – investigating, brawling, interacting or going slowly insane – they will find plenty of scope here.
6. Hard Helix Review – Gumshoe is a system that does one thing very well: Handle investigation stories. Hard Helix was written to accommodate that. If you're interested in Mutant City Blues, and you want a strong introduction to the types of stories it's good at, Hard Helix is a great supplement. In pure written content, it's a 5/5.
7. Trail of Cthulhu Review – The Introduction dives straight in to the basic premise, that ancient and insane deities exist and are still trying to invade Earth and that someone has to stop them, whatever the cost to life and sanity. It then moves on to the burning question: there's already a Call of Cthulhu RPG dealing with just that, so why a new game? The answer lies in the Gumshoe ruleset, developed by Pelgrane Press for the purpose of running games based around investigation and discovery, and built so that any adventure depending on certain clues being found will have those clues found!
8. Mutant City Blues Review – Arbitrarily ten years in the future, the world has undergone the biggest ten years worth of change possible; due to an odd illness, people began exhibiting superpowers. Simple enough statement, but the quality comes from the explanation of how these mutants have changed sports, entertainment, law enforcement, et cetera. It's serious, while still being able to put a gratifying smile on the reader's face.
9. Stunning Eldritch Tales Review – The first supplement for Trail of Cthulhu this book has four new adventures written by Rodin D Laws. These pulp-style adventures are a good companion for the core book, helping folks get started with the Gumshoe system from Pelgrane Press. The book itself is 82 pages (including the handouts) and has a cover by the talented Jerome Huguenin.
10. Gumshoe System Review – It is the presentation of ideas on how to better handle investigative games that helps the would be GM just as much as the system. This is, really, a different approach and a description of how best to implement that approach as much as it is a quality of the system itself that aids investigative games. Still, this is done well.

Tags | gumshoe, pelgrane press