Posted on April 5, 2010 by alanajoli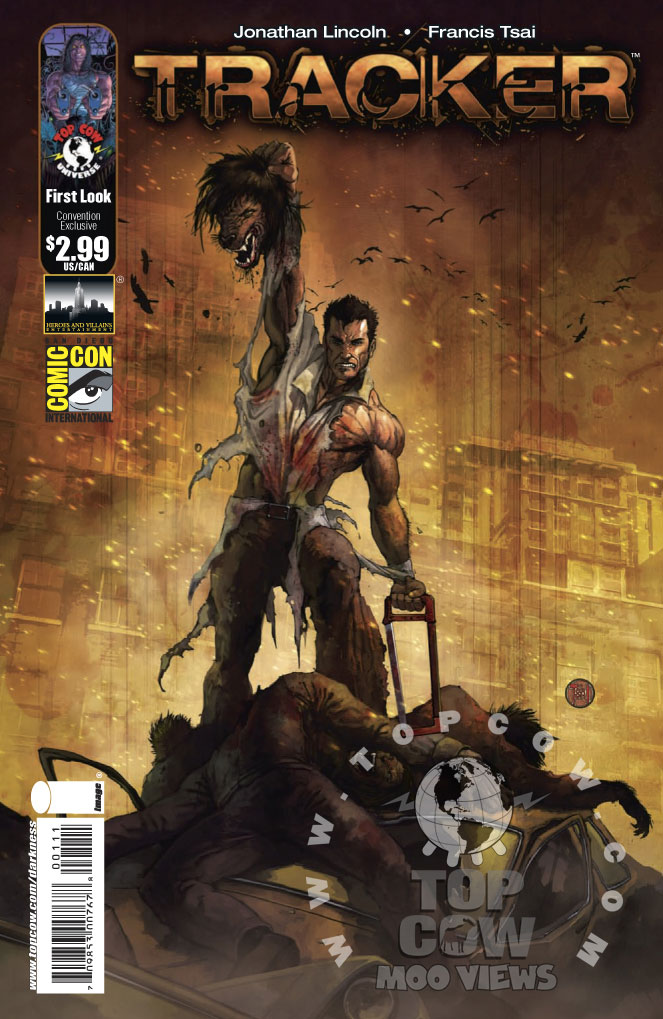 I have to say that teaser comics are just unfair. When I got a hold of Tracker: First Look (from the publisher, in pdf format) I saw that it was a convention exclusive, and that it didn't have its own number on it, but it didn't occur to me that this meant I'd be getting a sneak peak into something I might not be seeing more of. And man oh man, does Tracker look like it's going to be a series to follow.
In the preview, Alex O'Roarke is discovered as the single survivor of a massacre on a bus. Found by his FBI agent partner Jezebel Kendall, Alex should be dead — he's been shredded and has suffered far too many wounds to still be breathing. And yet, he is. Approached by a strange doctor in the hospital who obviously doesn't belong, he's given a card with contact information, just in case he has questions about just how he survived. But despite surviving, he remembers little of what happened on the bus — and what he does remember doesn't seem believable. The serial killer he and Jezzie have been tracking is a monster, quite literally, and Alex isn't sure how to tell his partner — and his boss — without losing his credibility.
And that's where the story drops off, leaving us on a cliffhanger for Issue #1 (which came out in November 2009). The art work is an almost sketched style — the lines aren't solid, and sometimes the images look painted instead of drawn at all. Frances Tsai's work suits the tone of the comic, not quite contained and solid, just like Alex's life. The pacing by writer and creator Jonathan Lincoln is phenomenal, and Alex as a narrator and main character has a great voice. From the notes at the end of the preview, it looks like Tracker becomes a werewolf story fairly early on, which is somewhat disappointing, given the mysterious beginning where nothing is clear. But given the narrative style and the artwork (and, actually, the unique lettering style by Troy Peteri), it has the potential to be not just another werewolf story, but something really cool. If it's not too late, check out Tracker #1 and see if it lives up to the expectations this convention-only preview sets up!
Review by Alana Abbott
Tags | drivethrucomics, top cow