Posted on April 28, 2010 by alanajoli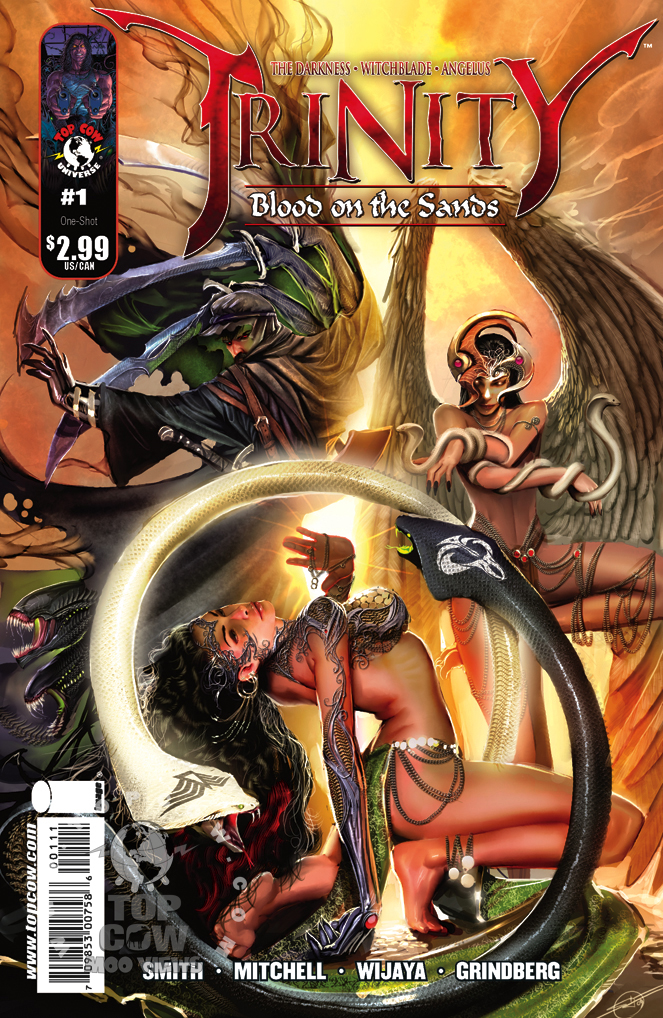 Top Cow has several series that expand the Witchblade universe, and over the summer, they sent me a preview of a one-shot: Trinity: Blood on Sands. It depicts a 14th century tale of the battle between the Darkness and the Angelus, balanced, of course, by the bearer of the Witchblade. Written by Philip W. Smith II and featuring art by Sheldon Mitchell, Admira Wijaya, and Tom Grindberg (some of whom team with other artists for inks and colors), Trinity deepens the Witchblade mythology a little bit in twenty-five pages and three short-story like episodes. As a stand alone, however, it would do little to draw an audience into the series. Using the current mythology in which the Witchblade can be broken into two, the one-shot features a pair of siblings who share the Witchblade, one cruel and dark and the other good and loving, a trope which, when pitted against the Witchblade storyline during the time it came out, seems too simplistic. The art for that segment is strong, and the facial expressions on the two sisters in a 14th century Arabian setting is poignant.
The other two segments feature a tale of the Darkness and a tale of the Angelus, who has been corrupted by the Darkness and must be killed. The art in these segments is less interesting — the Angelus story is told in a comic style that wouldn't have been out of place a decade ago, so it feels dated against the more modern Witchblade tale. The story of the Darkness seems to revel in violence without having a plot of its own, and the art largely features body-parts and monsters.
Unless you're a collector, Trinity: Blood on Sands is skippable. It's a great concept, and it's great to see an Arabian-feeling setting utilized in the mythology of the Witchblade universe. Unfortunately, given the strong storytelling by Ron Marz in the regular Witchblade series, it doesn't stack up.
Review by Alana Abbott
Tags | drivethrucomics, top cow, witchblade