Posted on December 4, 2018 by Flames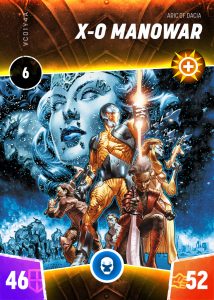 VirtTrade and Valiant Entertainment have announced the official launch of VALIANT HEROES – CARD BATTLES, available now for iOS devices. Developed by VirtTrade, the card-collecting and battle game features characters from the vast Valiant Universe, including Bloodshot, X-O Manowar, and Faith, plus many more. The game was initially announced in September.
In VALIANT HEROES, characters join forces to fight in single and multiplayer battles across the Valiant Universe. Players can collect cards and battle with them to gain XP, and build collections to improve their ranking against other players globally.
Additionally, players can compete in the "Fight Zone," where they are able to trade and upgrade for cards with improved health and attack scores, giving them enhanced skills and powers for the battles ahead. Players can also earn regular rewards, including coins and free cards, as they return to the game each day.
VirtTrade has previously found success developing apps for the NFL, NBA, Discovery and, most recently, partnering with Formula 1 to make F1 Pack Rivals.
VALIANT HEROES is out now and free to download on the App Store and will be available soon on Google Play for Android devices. Want to catch up on Valiant heroes? Valiant Comics are available on DriveThruComics.com.


Tags | appstore, comics, mobilegames