Posted on February 26, 2010 by alanajoli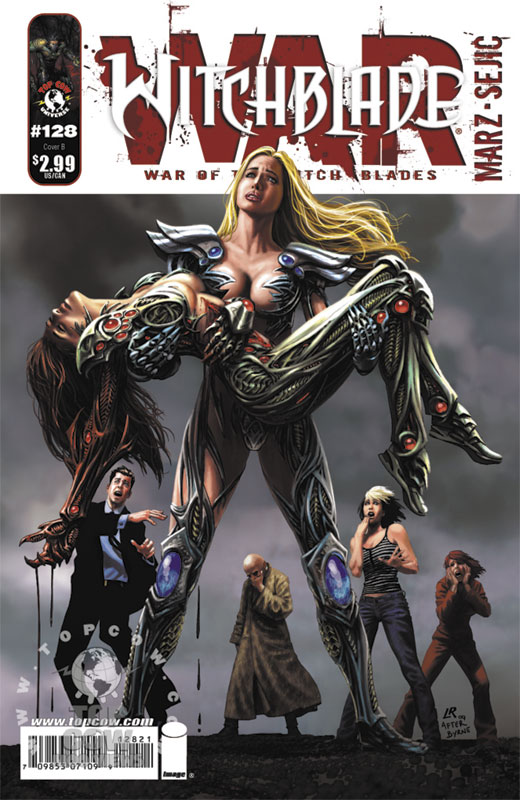 As you could tell from my reviews of the first half of the "War of the Witchblades" arc, back in May, I was loving them. Matt would send me a new PDF from the publisher, and I'd eagerly open it to see the next installment.
Except when I didn't. That's right, I completely neglected to download Witchblade #128. Rather than miss the fourth issue in the saga after the download period expired, I did what any self-respecting comics reader (and reviewer) would do — I waited for it to arrive at my friendly local comic shop (FLCS) and bought that sucker. This was a good choice, because without issue #128, the rest of the story wouldn't have come together so well. Since they've been on the shelves for awhile now, I thought I'd review the rest of the "War of the Witchblades" arc, and recommend that you all keep an eye out at your local FLCS for a trade collecting these six issues.
And here's where the spoilers start: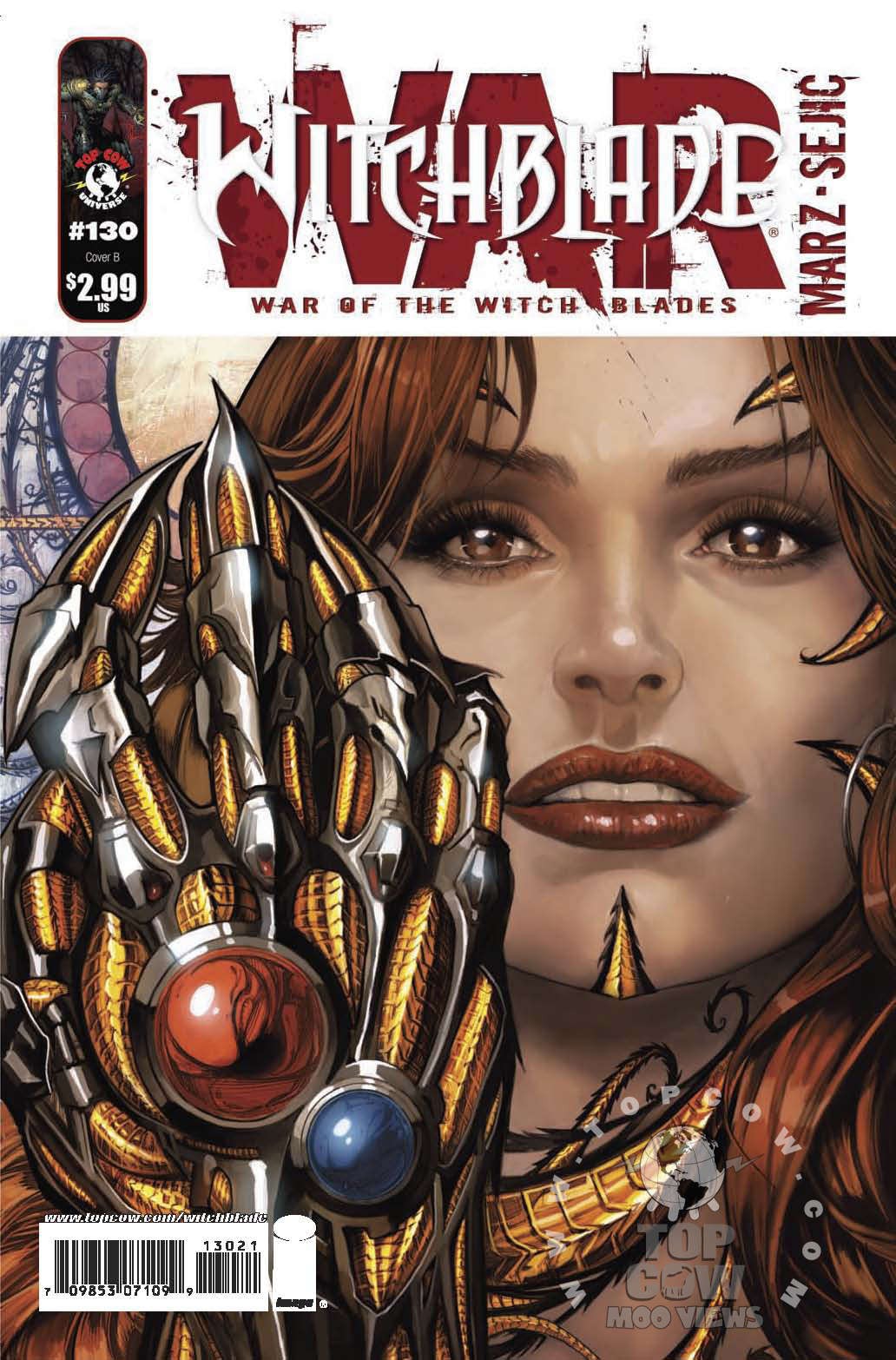 As before, the artwork by Stjepan Sejic is hyper-realistic and fabulous. The textures he evokes on everything from the outfits of the Angelus to a completely altered by darkness Brooklyn Bridge are perfect. On one page in issue #128, Marz sets the pacing for Gleason to resuscitate using CPR, and Sejic's sixteen-panel fast sequence is brilliantly overlapped by the action that happens immediately after. But not only is the art beautiful, it's also expressive, and Sejic captures the emotions of Sara's complete descent into Darkness against the vulnerability of Dani as she continues her transformation as an agent of the Light. The interplay between the old Chinese wizard who has served as Dani and Gleason's consultant and the mysterious dark wizard who has been tempting Sara further along the path is equally well depicted — the Chinese wizard's white whiskers and clothing declaring his allegiance to the Light while his enemy, whom he calls brother, shrouds himself in long dark hair and clothing. They both extend out of their paneled boundaries, as though the traditional format cannot contain them.
As for the story, Marz takes us further down Sara's descent. In #127, Sara had wounded Dani but been incapacitated by Sabine, leader of the Angelus and hopeful choice of the Angelus Force. As #128 opens, though Gleason is able to save Sara from death, he's unable to save her from herself, even with the help of Sara's young daughter Hope, the only one who seems able to reach her. Meanwhile, Dani comes to an agreement with the Angelus: she'll allow them to help, so long as she is the only one confronting Sara and restoring the balance. In issue #129, Dani determines that Sara has fallen so far into Darkness, she can't be reached without real, dangerous combat. But while last time they fought, Dani had backup, this time, Sara has creatures of Darkness at her beck and call. Luckily, despite Dani's instructions, the Angelus descend into Sara's corrupted version of the Brooklyn Bridge to allow the two Witchblades true combat. We're treated to an amazing two-page spread of Dani and Sara locked in combat! Sara manages to overpower Dani, and it truly looks like she's willing to sacrifice her one-time friend when she takes back the Witchblade — but the Angelus Force finally reveals itself to Dani's friend Fitch, and in issue #130, the Angelus Force makes its final choice of a host: Dani, who could not be the host until the Witchblade was removed from her. (Fitch gets a little gratification herself when, as temporary Host, she passes on the Angelus Force to Dani through a kiss.) Though the Angelus Force wants Sara dead for destroying the balance, Dani is an equal part of the Angelus Force's power, not just a puppet host as previous incarnations have been. In order to win, Dani must purge the Darkness from Sara, restoring her to her own sanity and bringing the Witchblade back into balance. It's a great conclusion — and part of what the Witchblade writers had been planning since introducing Dani in issue #100, according to the notes. Having Sara back in control of herself, and back being civil to Gleason, who truly cares about her, and a good sister to Julie, is a great launching point for wherever Witchblade goes next.
I'm looking forward to sticking around for that ride.
Review by Alana Abbott
Tags | drivethrucomics, top cow, witchblade