Posted on March 9, 2010 by alanajoli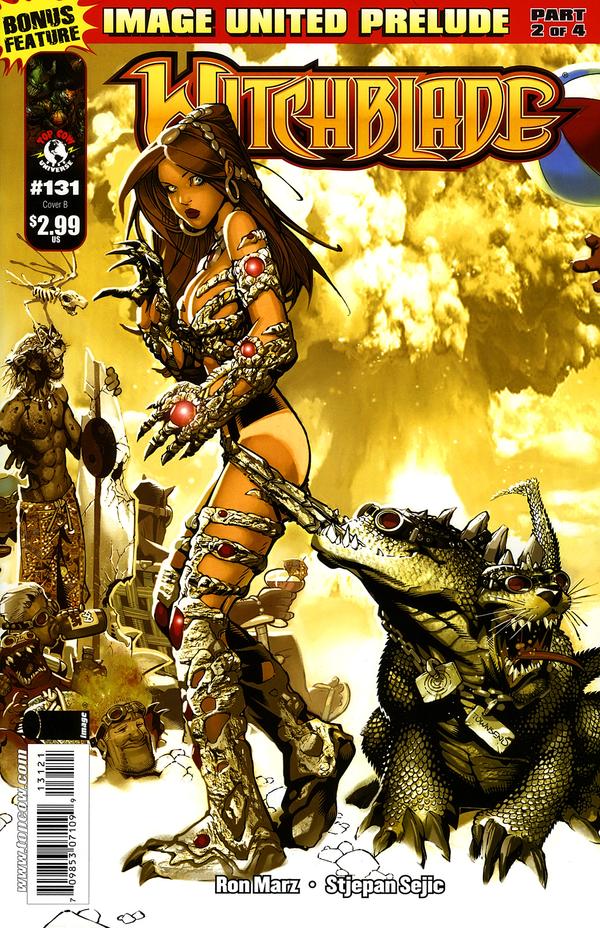 Back with another overdue review of Witchblade (provided for review by the publisher in pdf format). Usually I don't comment on the alternate covers (many of them have way too much cleavage for me to appreciate), but I have to say that Chris Bachalo's Cover B is brilliant for this issue — it's an almost Disnified version of Sara wearing very little Witchblade armor, but she's just so cute that her scantily clad bod seems secondary to the hair and earrings being featured. None of the covers are particularly relevant to the content inside in this issue, so the cute factor goes a long way.
Sejic and Marz continue their excellent work in issue #131, which is really a wrap-up to the "War of the Witchblades" story line. Poor Julie's been left out in the cold, not knowing about Sara's secret, paranormal life. Now that she has a chance to talk to Gleason (while both of them try to get baby Hope to cooperate with eating and bathing), he sums up what's been going on in the world for the last six issues. Apparently, Sara's such a good cop that despite missing shifts and going a little insane during the previous arc, all she's facing is a slap on the wrist. As for the consequences of the Witchblade's division and restoration — it looks like Sara may have some work ahead of her keeping the dark side of the balance in check.
Overall, this is a recap issue, and if not for some gorgeous, almost painterly art by Sejic, it would be easily skippable. But from the hilarious joking pout on Julie's face on the first page to a beautifully colored circular panel of Sara and Dani on the closing page, Sejic's art continues to shine. Having the wrap-up is a handy way for Top Cow to inform readers that Dani and Finch are moving on into their own series (and possibly a relationship) while making it clear that Sara's struggle is ongoing. She's been changed by falling into Darkness, and even though she's back in control, there may be moments when, faced with evil, she's tempted to retaliate with her own darkness. Issue #131 isn't a must-buy episode in the ongoing saga, but it's definitely worth collecting if you've been following the rest of the storyline.
Review by Alana Abbott
Tags | drivethrucomics, top cow, witchblade