Posted on March 21, 2010 by Flames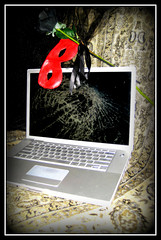 Author Jess Hartley has announced a new urban fae fiction project, one that allows "Patrons" to support her fiction directly (and get exclusive access to it, as well as other benefits.) Known as "direct-market fiction" or "reader-sustained writing", The Shattered Glass Project invites readers to take a direct role in the publishing process through a variety of different Patronage options during the Spring of 2010.
For decades, traditional publishing has been one of the only legitimate avenues for aspiring fiction authors. While the publishing industry offers countless positive opportunities and advantages for writers, there are also challenges. Some works or formats aren't economically feasible for large publishing houses to consider, leaving writers seeking new ways to get their work into reader's hands.
[...more]