Posted on July 24, 2009 by Matt-M-McElroy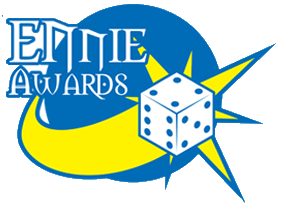 Voting for the 2009 ENnie Awards is about to begin. Lots of excellent titles this year so choosing among them is going to be very difficult in some categories. Let's take a look at the Nominees one more time…wow, what a list.
You can click the "details" link on each one for more information about the particular products. I'm going to go through and pick one (or two) from each list that I think deserves a little extra attention. A lot of these categories have several titles I enjoy so this certainly is not going to be an easy task…
Best Cover Art:
3:16 Carnage Among the Stars – An excellent game with an interesting cover. No flashy characters or gruesome monsters, just a compelling space invasion on another planet. Cool stuff.
Scion: Ragnarok – All of the Scion covers have been pretty cool and this one, the last book in the series is one of the best.
Best Interior Art
Mouse Guard – Based on an excellent series of comics, the RPG continues to offer excellent art and is an easy winner in this category, at least for me.
Best Cartography
Modern Floorplans: Victorian Style Mansion – This one has a lot of options for use, ranging from Adamant Entertainment's The Imperial Age to Cubicle 7's Victoriana and more.
Best Writing
Hunter Horror Recognition Guide – No game mechanics to speak of, yet one of the most useful books for the Hunter: the Vigil setting.
Don't Lose Your Mind – This is the book that sold Don't Rest Your Head to me as an amazingly creepy awesome game.
Best Production Values
Mouse Guard – Archaia puts together top-notch products, whether comics or RPGs all of them are well designed, fun to read and are a welcome addition to your collection.
Best Rules
Hunter: the Vigil – The addition of Tactics, Risking Willpower and the Compact/Conspiracy levels of play were exactly what was needed for the World of Darkness.
Best Adventure
The Rose-Bride's Plight – I said quite a bit about what I liked in my Review, but quite simply it is a great adventure for the Lost to explore.
Best Monster or Adversary
Witch Hunter: Grand Tome of Adversaries – This is another one where the supplement sold me on the game. The Tome really got me into the setting and style of play for Witch Hunter and offered up plenty of story hooks while reading it.
Best Setting
Hot War – Check out Todd's detailed Review or the Monsters Preview for some of the awesome that is the Hot War setting.
Best Supplement
Hunter: the Vigil – As much fun as I was having with the core mortal adventures in the World of Darkness I wasn't sure what a game line focused just on Hunters would offer me. It offers up quite a bit. New Rules, new factions, new monsters and plenty of great adventures.
Best Aid or Accessory
Hunter Horror Recognition Guide – I mentioned previously that this is one of the best supplements to the Hunter line-up and I stand beside that statement. An in-character resource for Players and a collection of story ideas, antagonists and more for Storytellers.
Kobold Quarterly – I don't even play D&D and I find the Kobold to be an incredibly useful product. Excellent interviews, new monsters/adversaries, adventure hooks (all of which can easily be converted to your fantasy system of choice).
Best Miniatures Product
I do not have a pick for this category as I have not had the chance to check any of these nominations out. I will be taking a look at GenCon if I get the chance and hope the best product wins.
Best Regalia
This category is a bit of a catch all mixing fiction with board games, art books and comics. All of which may be great on their own, but it does make for a challenge when stacked against each other. Missing Gary wants me to vote for Infernal Sorceress and the fun times I had playing Deadly Prey want me to vote for it.
Best Electronic Book
Collection of Horrors: Razorkids – The Collection of Horrors is a companion to the Horror Recognition Guide. I was surprised only one part of the collection made it into the list and not the entire set, but oh well, anyone playing (or running) a monster hunting game should check these out.
The Death Mother – This awesome little nightmare is perfect for a dark fantasy game and well worth picking up if you want to spice things up a bit.
Best Free Product
I don't think Quickstarts and promotional items should be in this category so I'm going to vote for the excellent Trial & Terror: Supernatural Victims Unit and you should too.
Best Website
Mad Brew Labs – Tons of useful advice, crazy ideas and sneak previews of upcoming books.
Best Podcast
The Voice of the Revolution – Run by the folks over at IPR this podcast keeps us up to date on new indie games, conventions and is generally great to listen to.
Best Game
A Song of Ice and Fire Roleplaying – A much needed return to an excellent setting. If you are even a casual fan of the books this book is worth picking up to explore. Green Ronin has some great support material available now as well including adventures.
Product of the Year
Don't Lose Your Mind – Go read this book, seriously. This is the kind of RPG supplement I want to be writing and makes the game that much more awesome.
Mouse Guard – This book is just about as perfect an RPG can get and offers everything you need to have adventures throughout the Mouse Territories. Excellent for beginners and experienced gamers alike, this is one of my favorite RPGs of all time.
So, that is it. Feel free to agree or disagree, just make sure you head over and cast your Votes.
Congratulations to all of the nominees. There are a lot of truly excellent products in the mix this year and this list was definitely a challenge to put together in some categories.
You can find most of the nominees at the Flames Rising RPGNow Shop and every one that you buy not only helps the publisher out, but it helps keep this site running.
Thanks for reading,
-Matt