Posted on January 5, 2010 by Monica Valentinelli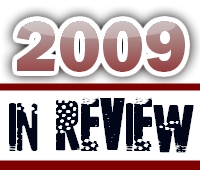 Dear FlamesRising.com Readers,
Phew! It is really hard to believe that another year has gone by so quickly. First and foremost, thank you for your comments and your continued support. Your feedback has helped us tremendously, because that was the driving force behind launching a more reader-friendly design in February of 2009.
This year we also focused on ensuring that we had more features for you to interact with and read as well. The horror plot generator was a big hit, and even though we launched it late this year, it continues to be very popular among many of you. Right in time for GenCon 2009, we provided you with a contest, courtesy of the friendly folks at GenCon: Indy. One of the other popular features we added was our Previews category, where we supply game, fiction and comic previews of published (or soon-to-be published) works. The Previews feature is something that we can't do alone because each and every preview on the site is supplied, with permission, from the publisher and/or the author.
Let's take a look at some of the most popular topics and a few of my fiction review picks from this past year:
Fiction reviews always do well here on FlamesRising.com, and I got the chance to review several books. I'd like to share with you some of the reviews that I had written, as well as my commentary on them.
For 2009, we also highlighted a number of dark fantasy and horror games, and even offered you with a free Storytelling Adventure System One Scene for Halloween. Dubbed THE DEVIL'S NIGHT, this free one-scene was offered to you in conjunction with our friends over at White Wolf Publishing.
Another game-related topic in particular that stands out is LITTLE FEARS: NIGHTMARE EDITION. Game designer Jason Blair offered us an exclusive preview to the game through his LITTLE FEARS: 13 Doors Preview series.
In addition, we reviewed several board games, RPGs, movies, comics and more! We had a lot of fun talking about horror, so here are some of your favorite posts about other games, movies and comics we wrote about.
We are very excited about this year, because we have a lot more in store for you. We hope that you continue to enjoy FlamesRising.com. Cheers to a a terrifying 2010! (In a good way, of course.)
To learn how you can feed the Flames, feel free to Contact Us. We're also @flamesrising on Twitter, too.
From all of us here at FlamesRising.com, thank you for reading!
– M
Tags | Flames Rising