Posted on June 13, 2011 by Flames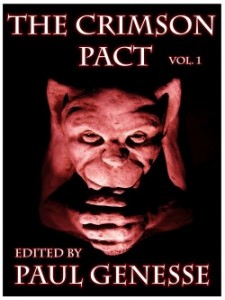 FlamesRising.com is pleased to present you with a preview of The Crimson Pact Volume One. Twenty-six authors wrote stories in this demon-themed eBook anthology and samples of three of them are available for you to read below.
The Failed Crusade
Written by Patrick M. Tracy and Paul Genesse
News of our victory came not in the happy shouts of the freed multitudes, but in the groaning voices of the animate dead. Ours was a victory that none would confuse with triumph. The best half of us lay broken within the Rusted Vale, the rear guard left to puzzle out the events that had been no more than far-off echoes within the smoke and crashing iron. We knew only that we had finally won, that the Crimson Pact was redeemed, that we could all go home. Tired as we were, no man lifted a fist to celebrate. No Blessed Woman smiled. No church Catechist recounted the litany of our good fortunes. The cost had been too high, the wager of battle too awful. In that moment, winning didn't seem to matter. It would not be long before we found that even the brief illusion of victory would tear away like fog before the wind.
[...more]