Posted on July 30, 2015 by Flames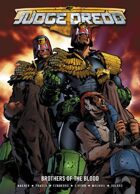 A FAMILY AFFAIR!
When Judge Dredd comes face -to-face with one of his clones he knows that the rookie may well be his replacement one day. Old Stoney Face isn't getting any younger and as he shows the new recruit around the streets of Mega-City One he reminisces about his dead clone brother Rico.
Out of respect for Dredd, the clone decides to take on Rico's name but will he also share Rico's fate?
Brothers of The Blood is another modern classic from writer John Wagner.
[...more]