Posted on September 28, 2017 by Flames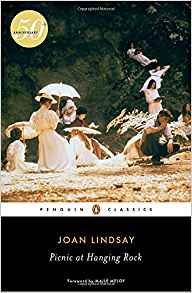 Written in 1967 by Joan Lindsay, Picnic at Hanging Rock is a historical fiction novel and ghost story set in a girls' boarding school located in Australia. A critically-acclaimed movie based on the book was made in 1975 by Peter Weir. Now, this literary classic slated to be a reimagining of Picnic at Hanging Rock. In 2018, it will be released as an Amazon mini-series starring Natalie Dormer from HBO's Game of Thrones.
Penguin Classics has just released a new edition of Picnic at Hanging Rock, with an introduction by novelist Maile Meloy. The story was Joan Lindsay's debut as a novelist at age 70, and is considered to be one of Australia's greatest literary works. Set in a Victorian 1900, the plot circles around the disappearance of three girls who attended Appleyard College for Young Ladies. The mystery, deftly told, is only the beginning of the story behind this book, however. Lindsay, who wrote the novel in less than two weeks, blurs the line between fantasy and reality, never revealing whether or not these young ladies were real people who disappeared or if they were figments of her imagination.
[...more]