Posted on September 20, 2017 by Flames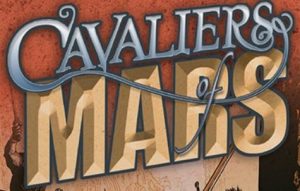 Return now to dying Mars in its last age of glory. A planet of flashing swords and choking sands, of winking courtesans and lantern-lit canal cities.
Mars, where fortune and heartbreak are two sides of the same obsidian chit, where lost cities and dry oceans stretch between the last bastions of civilization. Where the First Martians, the monument-builders, are but a haunted memory. Where the Red Martians become decadent and reckless in their last days. Where the Pale Martians rule the wastes, remembering a history whose weight would crush a lesser people.
Cavaliers of Mars is a swashbuckling adventure setting from Rose Bailey, longtime developer of Vampire: The Requiem and other Chronicles of Darkness and World of Darkness titles. Cavaliers draws inspiration from pulp fantasy and historical fiction, adding a modern edge and an exotic creator-owned setting.
Cavaliers of Mars is powered by the DEIMOS system, in which a hero's motivations and approach to problems strongly influence her chance of success. In combat, heroes face off with their enemies in contests of tactics and chance.
The Cavaliers of Mars Kickstarter has already funded and has blown through several stretch goals. With a few weeks left to go, there's time for you to get hooked on this new fantastical setting on Mars. Drop by and check out this newly funded game for Onyx Path Publishing!

Tags | kickstarter, onyx path, rpgs