Posted on October 22, 2009 by Flames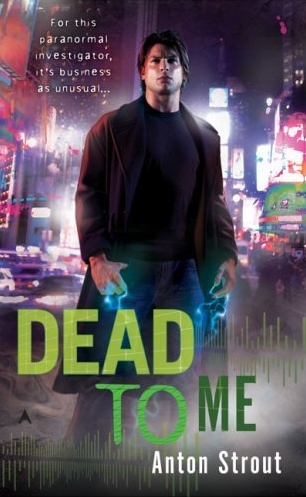 In this interview, Flames Rising is pleased to feature urban fantasy author, Anton Strout. Anton is the author of a series of books called the "Simon Canderous series." Set in modern-day Manhattan, Simon, the main character, has a power called psychometry.
We'd like to share with you Anton's thoughts on urban fantasy, what inspires him as an author, and his perspective on his Simon Canderous series of books. If you're a fan of Anton's work, you can also touch base with him throughout the year at several conventions including New York Comic Con, GenCon and more!
Can you define what "urban fantasy" means to you?
I think urban fantasy (UF) is a big changing bucket of definitions depending on who you talk to on any given day. I've picked up a loose definition during my experiences over a decade on the publisher side of things: I think it's any story with paranormal elements that is set in the modern world. Doesn't have to be an urban environment, even. Category-wise, there's a fine line between UF and paranormal romance. As a general rule, I think the amount of sex in the story influences which direction its leaning. UF does tend to be more plot and mystery oriented with relationships being slightly secondary whereas PR is a bit heavier on the romantic relations.
How did you come up with the idea for the Simon Canderous series?
The idea of a fairly mortal hero has always appealed to me. For instance, I like Batman more than Superman because he's a fairly regular guy. The stakes seem higher for him. Simon possesses the power of psychometry. He touches an object, he can read its history. Thing is, he can't control it, and that was the initial spark of the idea for the series, which was inspired by a short story within John Irving's The World According to Garp. There's a man who wears magic gloves, but he can't feel anything while wearing them. There was a bittersweet sadness to it all that set my mind wandering, thinking about gloves and magic. I imagined for myself a character who had to wear gloves to keep his power in control, and that this lack of control had also ruined every relationship he had ever been in. Simon's struggle to learn to control that power was what appealed to me.
What made you decide to go with a more humorous tone to your novels?
I miss Ghostbusters. I like the idea of regular guys, in my case secretive corporate office "Joes," fighting evil on a budget in Manhattan. Also, I'm a big fan of Joss Whedon and miss Buffy and Angel being on air. No one was really writing the types of books I wanted to read, so I set out to tell my own tales.
How much are innocent bystanders affected by the paranormal in Simon's world?
In my version of Manhattan, most people are unaware of the supernatural world around them. It's New York City, baby! Strange shit happens. As a New Yorker myself, I turn a blind eye to things that aren't "normal" on the street. It's part of the defense mechanism that most New Yorkers have. The New Yorkers in my books generally turn a blind eye to what they think they see "shambling by" out of the corner of their eye. That said, New York's Office of Plausible Deniability handles covering up much of the larger, more visible incidents. Its head, David Davidson, is a master of all things politic and could sell snake oil to a snake.
Of all the powers you had to choose from for Simon's character background – why psychometry?
I'm thrilled for how well urban fantasy has been doing the past decade or so, but I'm also a bit tired of the kick ass heroines that are all Buffy clones. When main characters are uber-powerful, I get bored quickly. What's the peril for them? I mean, really? I find the more mortal my heroes, the more important living through a story becomes. Real death is on the line! Although (thankfully) in UF death doesn't necessarily stop a character from going on…
What made you decide to incorporate Simon's day job at the Department of Extraordinary Affairs (DEA) so prevalently in your series?
I've spent some time working in the corporate sector. I thought the day-to-day office politics and that so-called "ordinary" life are a perfect juxtaposition to stepping out of the door to beat down zombies. It's a rush to take a bat to a bunch of the undead, but then there's the hours and hours of paperwork that follow that kind of balances the universe. I also think a lot of readers can relate to the fantasy of having a boring day job that also allows you to combat the things that go bump in the night.
DEAD TO ME was your first, published urban fantasy novel. What other stories have you written?
I have a few trunk novels. Stuff I dabbled in over the years before figuring out what I wanted to be doing. There is one, however, that I am in love with and would love to get back to when I have the time. It follows the lead singer of a past-their-prime punk/ska band and his life in NYC as they try to become relevant again. I have more than enough scenes and a large enough word count…. I just don't know how it all ties together or what the "true thru" line of the tale is, but I love the characters in it and miss them. It's probably more along my Nick Hornby ambitions as it's a totally "normal world" novel.
The third book in the series, DEAD MATTER, comes out in February. Can you give us a hint about what the story will entail?
Sure. When we first met Simon's work partner Connor, way back in Dead To Me, we learned that his brother Aidan had disappeared twenty years earlier. In Deader Still, there are bits of that past that are still plaguing Connor. In Dead Matter, we finally find out what happened concerning all that. Oh, and Taco Night is ruined for Simon thanks to a slathering monstrosity that attacks him at his local SoHo supermarket.
Do you have any favorite authors that have influenced your work?
There are a few. First and foremost, I grew up on Douglas Adams and his Hitchikers' Guide to the Galaxy series, so I've always liked humor in my sci fi/fantasy. The same holds true with early Craig Shaw Gardner and Robert Asprin. In recent years I've discovered Jasper Fforde and his Thursday Next novels, the work of Christopher Moore, and most things written by Joss Whedon.
If you had to go back and fix one thing in DEAD TO ME, your debut novel, what would it be and why?
As much as I love Dead To Me, I think it has some issues that plague most first novels. You're trying to find your style, trying to set a mood. A first novel takes some time to ramp up to speed because you spend a lot of time sort of setting the stage. If I could go back and do a 'director's cut' on the book, I'd probably tighten up the first fifty pages. I think I could be more concise now that I'm four books in and a little clean-up would be a benefit to book one.
Many authors talk about having a muse or some sort of "creature" that inspires your work. What compells you to write?
I can't help but see writing as a business. I've worked in publishing for over a decade now and the business side is ingrained in me. So I see my contractual obligations and deadlines as my muse. Hey, if the classical Greek idea of an inspirational goddess talking to you is your thing, great. As long as you're getting words down, keen. It's a little too hippy dippy for my personal liking, so I think I am most compelled to write by the fact that I love sharing stories that haven't been told yet.

Oh, I also get them from an archdemon named Skippy, but he said he'd kill me if I told you… Oh, wait…
For more about this urban fantasy author, visit the official website of Anton Strout, or read the review of DEAD TO ME here on FlamesRising.com.
Tags | anton strout, urban fantasy