Posted on January 17, 2019 by Flames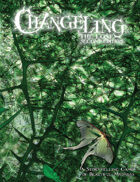 The latest addition the Chronicles of Darkness line of games from Onyx Path Publishing is here! Changeling: the Lost Second Edition has arrived in eBook and hardcover versions!
Changeling: The Lost Second Edition includes:
– Everything you need to create and play your own changeling, a human abducted by the fae and transformed by the experience.
– A complete setting of faerie wonder and macabre horror for the Chronicles of Darkness.
– A guide to changeling society, caught between the twin poles of human hearts and the vast fantastic.
– Supernatural powers, mystical oaths, and creatures out of legend.
Changeling: The Lost Second Edition is now available in PDF and Hardcover editions at DriveThruRPG.com and StorytellersVault.com!
[...more]