Posted on July 13, 2011 by alanajoli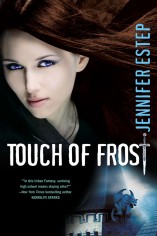 Available at Amazon.com
Full disclosure: I was a huge fan of Jennifer Estep's "Bigtime" series when it came out. Romance novels with superheroes? Totally my thing. So when I found out that she was releasing a YA series called "Mythos Academy," which also sounded right up my alley, I contacted her and asked her to be a guest over at my blog. She agreed, and she also sent me an e-ARC of the first book in the series, Touch of Frost, to review. I let out a little fangirl squeal of joy and jumped right in. Jennifer is also the author of the "Elemental Assassin" urban fantasy series.
I'm pleased to tell you that I was right; I am definitely part of the target audience for the Mythos Academy books. Take the best warriors of legendary history: Vikings, Valkyries, Romans, and Amazons. Now, imagine that they're all allied as heroes, called the Pantheon, against Loki and the Reapers of Chaos, who plan to free Loki and unleash a full-scale war on the world. The kids of these heroes have to get their training somewhere, and so many of them end up at Mythos Academy, a prep school for legendary warriors.
Gwen Frost, a gypsy, doesn't know where she fits in, and she doesn't really want to. She came to Mythos Academy after the death of her mother — for which she blames herself — and doesn't understand what she's doing there. She's no warrior, and her gift of psychometry, the ability to read emotions and history off of objects, mainly helps her find lost things. She doesn't really believe in the Pantheon or the Reapers, and she's got no interest in fighting those battles even if they are real.
But then Queen Bee Jasmine gets brutally murdered in the library, where Gwen works, and everything changes. Unwilling to let Jasmine's death go unmourned — when not even Jasmine's friends seem to feel grief at her murder — Gwen is determined to discover the identity of Jasmine's killer. And in the meantime, she ends up finding out a lot about what it is that brought her to Mythos Academy in the first place.
While the unpopular girl coming into her own at the posh academy theme has been done — and even been done with myths — before, the murder mystery angle and the relationships that Gwen develops with the other characters really set Touch of Frost at the head of the pack. Gwen starts off as an utter loner, but when she needs help to solve the mystery, she blackmails popular girl Daphne (a Valkyrie) into helping her. While the pair start off constantly at odds, the growth in their relationship is one of the strongest parts of the book. Gwen's burgeoning crush on the mysterious Spartan Logan, who always seems to come to her rescue, is also strong. But even beyond the characters, Mythos Academy seems to take on a life of its own. It's firmly rooted in both the real world and in the legendary one — students sneak off campus to visit the nearby city, while at the same time being totally comfortable carrying archaic weapons with them everywhere. The myth of Loki and Sigyn is a pivoting point of the story, but the Greek gods are equally present; the combining of pantheons works smoothly through the creation of a new mythology that follows the old tales.
Gwen does get a little maudlin at times — she dwells on the decision that she made that led to her mother's death. She worries that her motives were curiosity about other people's secrets rather than a desire to help. But if she revisits that past overmuch, it's in keeping with her point of view — the death of her mother is probably the most tragic, and life changing, event of her life. And her desire to do the right thing shows how clearly her mother lives on in Gwen.
Touch of Frost also introduces several scary monsters and some hard-core magic that circles around blood sacrifice, so it's not for the faint of heart. While it is YA, it's also gritty, and despite the fact that it takes place at what feels like a preppy academy, the reality of war — that you lose people that you love, and that's the nature of battle — is never far from the surface. All in all, it's a great introduction to a new world that fans of dark fantasy should enjoy. Definitely pick this one up.
Review by Alana Abbott
Tags | magic, Reviews, urban fantasy, young adult