Posted on July 13, 2011 by alanajoli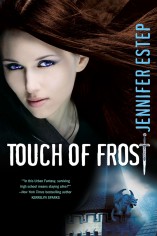 Gwen Frost, a gypsy, doesn't know where she fits in, and she doesn't really want to. She came to Mythos Academy after the death of her mother — for which she blames herself — and doesn't understand what she's doing there. She's no warrior, and her gift of psychometry, the ability to read emotions and history off of objects, mainly helps her find lost things. She doesn't really believe in the Pantheon or the Reapers, and she's got no interest in fighting those battles even if they are real.
But then Queen Bee Jasmine gets brutally murdered in the library, where Gwen works, and everything changes. Unwilling to let Jasmine's death go unmourned — when not even Jasmine's friends seem to feel grief at her murder — Gwen is determined to discover the identity of Jasmine's killer. And in the meantime, she ends up finding out a lot about what it is that brought her to Mythos Academy in the first place.
[...more]