Posted on August 4, 2022 by Flames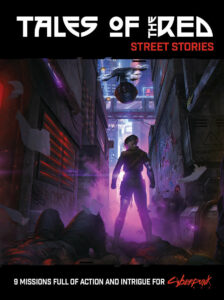 Night City is a big place, full of wild parties, dead bodies, and neon lights. Beneath the thin layer of advertising and grime, it's got some tales to tell. Stories of vicious gangs, hellbent artificial intelligence, and love. You'll get to meet suave mercenaries and movie stars, and even take a ride in a submarine. You'll fight cyberpsychos, dirty reporters, rival Edgerunners, and a high-flying assault team.
Available now from R Talsorian Games is Tales of the RED: Street Stories. In it, you'll find everything you need to run stories like A Night at the Opera, Agents of Desire, Reaping the Reaper, Bathed in RED and its accompanying finale One RED Night.
This gaming supplement is compatible with Cyberpunk RED. You can pick up a copy of Tales of the RED: Night City Stories from R Talsorian's booth at GenCon, your friendly local game store, or you can hop on over to DriveThruRPG.com for your digital copy.
Enjoy Night City, choombas!