Posted on July 24, 2020 by Flames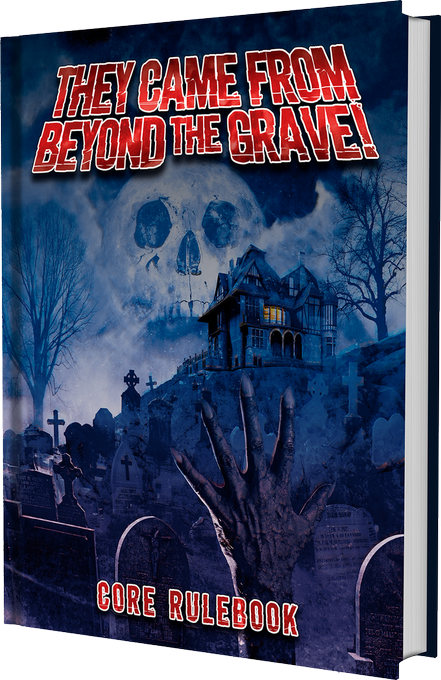 Onyx Path Publishing has launched a new Kickstarter for their StoryPath System line of RPGs. A companion to the previous They Came From Beneath the Sea!, you can now jump into campy horror with They Came from Beyond the Grave! Onyx Path describes the new game as:
They Came from Beyond the Grave! is a dramatic, hammy, and horrifying tabletop roleplaying game encompassing the shock, terror, eroticism, and humor of 1970s horror. This game allows you to play with all the magnificent content from the movies of Hammer, Amicus, and Roger Corman, and promises fun and thrills of the horror movie genre!
We had the chance to ask developer Matthew Dawkins about this project. You can also check out some actual play videos from the recent Onyx Path Virtual Gaming Convention too!
What were some of your favorite inspirations for They Came From Beyond the Grave?
I'm a fan of horror movies through the ages, and I dare say every one of them has touched this game in some way. My chief points of reference, however, are Asylum, a portmanteau horror feature by Amicus; Dracula A.D. 1972, starring the ever wonderful Christopher Lee and Peter Cushing; and The Beast Must Die, which mixes the dark house thriller with a murder mystery, a werewolf hunt, and better-than-average representation for a movie of its time.
How did you pitch this game? Was it always a stand alone RPG or did that come later on in the process?
I pitched Beyond the Grave! after the success of Beneath the Sea! on Kickstarter. I hadn't anticipated these RPGs being a line of games when I initially developed Beneath the Sea!, but everything fell into place after seeing how versatile that game was, along with how well it was received online and at conventions.
How compatible with They Came From Beneath the Sea! is this RPG?
They're perfectly compatible, with Archetypes, Quips, and Cinematics seamless in their ability to crossover between games. I want any They Came From games to have this element, where they can expand the previous game or stand alone.
Do you have to own or be familiar with TCFBtS to play this?
You do not have to own They Came from Beneath the Sea! to own this one. It's its own product.
TCFBtG uses the StoryPath System, how different is it from the rules in Scion 2nd Edition or Dystopia Rising: Evolution?
The rules at their core are the same: d10s dice pools, 8s and above as successes, Complications and Enhancements, etc. However, They Came from Beyond the Grave! has the added bonus of Cinematics, Tropes, Quips, and Trademarks, which can be added or removed depending on the player wishes and the tone the Director (GM) is aiming for.
What were some of the biggest challenges during the playtesting of this book?
Not having the benefit of in-person conventions in 2020! I got to do some playtesting with it at the end of last year, thankfully, and it translates well to online play as our game at the Onyx Path Virtual RPG Convention showed and as Red Moon Roleplaying's ongoing actual play (very nicely produced!) likewise demonstrates.
What can you tell us about the creative team on this book?
I like to hire a diverse team of established and new authors. The writers on this one are the following stellar talents: Michael Barker, John Burke, Dixie Cochran, Rachel Cole, Joshua Alan Doetsch, Klara Horskjær Herbøl, Jason Inczauskis, Danielle Lauzon, Lauren Roy, Bianca Savazzi, Robert Walker, Eddy Webb, and Rachel Wilkinson. Oh, and myself.
Are there any live plays where we can see the game in action?
Absolutely. Enjoy the following links and follow Gehenna Gaming and Vorpal Tales on Twitch, as they're both running campaigns of Beyond the Grave! right now: https://youtu.be/qLEFXntIa3g is our Onyx Path Con game, and https://youtu.be/RDYzNbk7VkQ is Red Moon Roleplaying's first episode.
What kinds of stretch goals are you hoping for?
I really want us to expand the bestiary for this one, as horror movies of the 1970s really broke the mold on what you might see appearing. Plus, any monsters we add to this can also be used in They Came from Beneath the Sea!
They Came from Beyond the Grave! has reached its funding goal and is now on to stretch goals. Read the manuscript and check out other previews today at Kickstarter.com!
Tags | horror-comedy, onyx path, vampires