Posted on March 24, 2011 by Flames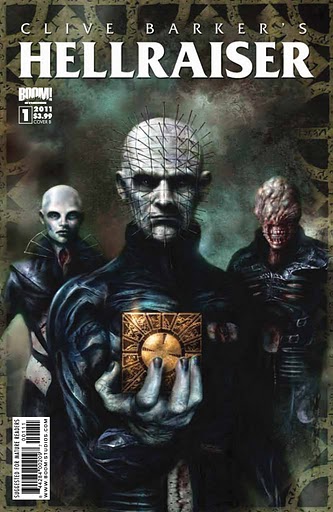 Comic book publisher Boom! Studios debuted a web exclusive for the brand new Hellraiser comic series, written by Clive Barker. Boom! celebrated the release by raising hell all over the blogosphere. They reached out to bloggers and reviewers by offering the short story and pages of the preview for free. Then, they highlighted each and every instance of the coverage on their Twitter, Facebook pages and blog.
We've included a page of this unique web exclusive at the bottom of our post to give you a feel for the artwork and tone. The short story prelude is entitled At the Tolling of the Bell and is downloadable via several sites including DreadCentral.com, which we've linked to here.
Several horror and comic sites have already reviewed the prelude and have added their thoughts on this web exclusive and the first issue. For your convenience, we've linked to a few of them below that we thought were pretty spectacular.
br>
Hellraiser Premier Issue Comic Reviews
br>
Review: Clive Barker's Hellraiser #1 by Hypergeek – "Clive Barker has touched Hellraiser only twice: once to write The Hellbound Heart, and once more to write and direct the original Hellraiser film. Now witness Barker's long-awaited return to tell a new chapter in the series' official continuity—a trajectory that will forever change the Cenobites… and Pinhead!"
Read the Web Exclusive 'Hellraiser' Comic Prelude! at Fear.net – "Few films are as groundbreaking, as timeless, and as shocking as Clive Barker's original Hellraiser. Now at long last the maestro is returning to the creation that made him a living legend of the macabre."
Comic Review: Clive Barker's Hellraiser #1 on Geeks of Doom – Anyone familiar with the movies will be right at home with this comic. It quickly sets up the familiar elements of the series: the puzzle box, the Cenobites, lots and lots of bodies without any skin — they're all here within the first 10 pages."
Comic Vine Reviews Hellraiser #1 – "If you're looking for a horror comic with an actual story and great art, this is where to look. Oh, and this isn't one for the kids."
New Comics: 'Clive Barker's Hellraiser,' Number One – "The most astonishing thing about the book is how quickly it picks up on the old feel of the franchise. Manco's art sets the perfect tone, lending an atmosphere elegant viscera to the book."
Preview of Hellraiser Issue #1
br>
The following page is a sneak peek at the first issue of the Hellraiser comic. For more information about Hellraiser, visit Boom! Studios.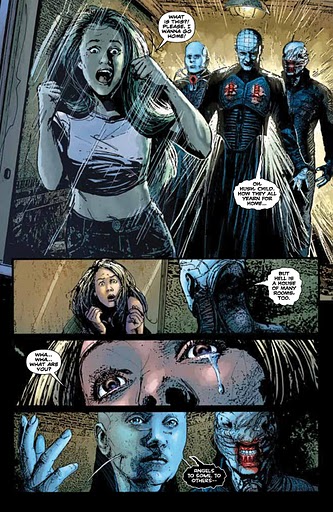 Tags | boom studios