Posted on July 30, 2012 by Flames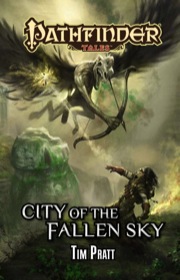 Available at Amazon.com
City of the Fallen Sky by Tim Pratt
This is the first Pathfinder novel that I have read, since getting into the world of Golarion as a DM and player I have wanted stories about it. Turns out there are quite a few available. This is my review of one of them.
First of all I am going to tell you the things I liked the most, then a brief plot description and some final thoughts.
One of the best things this book did was show that it is a Pathfinder story, not just a generic fantasy novel. Yes, the Pathfinder organization was briefly featured, but there was so much more than that to ground this book in the Inner Sea. The way the setting, peoples, places, culture, and even game mechanics was worked into the story really made it come alive. This was more than just mentioning nations and gods, going to Absalom, and using unique monsters. The culture of different areas was discussed, both while the characters were there and by the characters themselves, it felt like a living world that was straight out of the Inner Sea Campaign Setting.
Secondly this book integrated the game with the world in a believable fashion. I can't remember reading a D&D book that honestly explained Vancian casting in it's context. But here the Alchemist class is portrayed in not only a mechanically accurate way but in an interesting and characterful way. Alaeron, the main character, is an alchemist and he is seen with his extracts and potions other paraphernalia used in both a game accurate and story believable way. Both the positive and negative aspects of this class Ina the game are portrayed as having real reasons and effects on story. He describes how the potions and extracts he drinks make him feel, the smell, taste, and color of them, it makes the story more immersive I think. I'd love to use those type of descriptive techniques when playing.
Third, the book handles a potentially disastrous situation well. Skiver, the rogue character, is gay and much to my surprise and delight, it's no big deal. When he first tells Alaeron he is no threat to his intentions for their adventuring companion Jaya because he pitches for the same team I honestly stopped and decided to see just how well this was handled. Skiver's sexual orientation only comes up about a half dozen times in the book, and it only felt a little gratuitous maybe once. Alearon's jealousy and spite towards basically anyone Jaya touches happens far more often and is shown for the negative that it is. It even leads to wonderful scene where Jaya kisses Alaeron for good luck and Skiver does too, the descriptions of their respective kissing styles is a great detail. Skiver is just another ne'er do well that is very handy with knives, his orientation only really affects the story when he rebuffs Jaya's attempts to bribe him.
The story is about debts, love, treasure, and pursuit of knowledge. Our Alchemist is pursued by a Technic League enforcer for taking artifacts from the Silver Mount. Running from retribution and with his hopes at romance along with his desire for knowledge lead him across the world on a harrowing adventure to the fabled Sky City of Kho. With debtors Jaya(to save her brother) and Skiver(to pay off gambling debts), Alaeron sets off from Andoren and heads south to adventure in the Mwangi Expanse near the nation of Osiria.
Want more details? Read the book, City of the Fallen Sky was a very entertaining read that immerses veteran players and non gamers alike in the world of Pathfinder.
I enjoyed it a lot and recommend you pick it up, it's available as both a real and ebook(works on iPad at least, likely more platforms too).
Review by Bryce Pearcy
dissentingdice.blogspot.com
Tags | pathfinder