Posted on April 11, 2008 by Matt-M-McElroy
The Ebonacht Trilogy by James Lowder.
Preview the cover with Art by Martin Hanford, and Pre-Order your copy of The Screaming Tower at the Elder Signs Press website.
Superstition shrouds the island of Thran and keeps the fear-plagued inhabitants subservient to the reclusive tyrant, Lord Ebonacht, and the denizens of the unseen Twilight Court. Only Janus, an orphan whose own mysterious past is discussed in frightened whispers, rails against the tales of the Strangerfolk and the other creatures that are rumored to stalk the night. His quest to prove the old stories false will bring him face to face with the prisoner of the Screaming Tower and reveal secrets about the world — and himself — far more terrible than those hinted at in the grimmest of legends.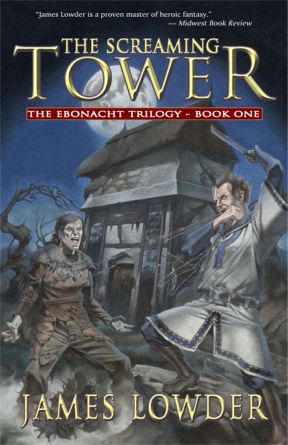 The Screaming Tower will be available in signed, numbered, limited edition hardcover (limited to only 50 copies) as well as trade paperback and signed trade paperback. Visit the Elder Signs Press Website to place your order.
Read the Flames Rising Interview with James Lowder for a little history on the Ebonacht Trilogy and his other writing projects.
Tags | dark-fantasy, james lowder, screaming tower